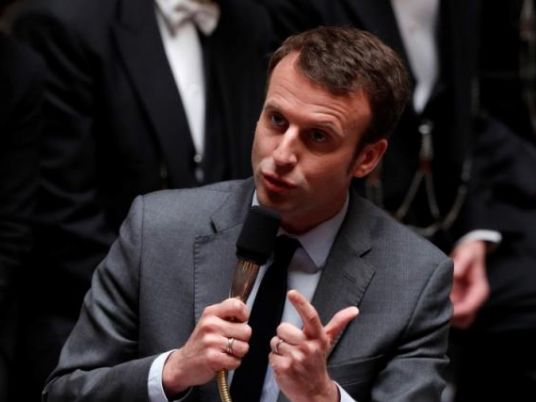 Centrist Emmanuel Macron would trounce far-right leader Marine Le Pen in France's presidential election if, as seems increasingly likely, the two face off in the second and final round of the contest on May 7, a poll showed on Tuesday.
The Ipsos poll was the latest of many to show Macron and Le Pen six or seven percentage points ahead of erstwhile favorite Francois Fillon, who has been engulfed by a financial scandal involving his British wife, Penelope, and two of his children.
The poll conducted on Sunday and Monday showed Le Pen and Macron respectively securing 25 and 24 percent of first-round votes, with transfer votes from eliminated candidates ensuring a resounding victory for Macron in the final two-way playoff.
Ahead of the first round vote on April 23, most of the major candidates were out on the campaign trail on Tuesday, defending their programs in speeches and meetings with representatives of the business federation Medef.
Fillon's British wife at the same moment faced questioning by magistrates who are investigating accusations that she got hundreds of thousands of euros of parliamentary funds from her husband for minimal work as an assistant.
Since press disclosures in January that prompted the judicial investigation, Fillon, a fan of late British leader Margaret Thatcher, has tumbled from first to third place in the polls. These now show him being eliminated in round one.
Fillon has accused Socialist President Francois Hollande of waging a 'dirty tricks' war against him.
While denying he did anything illegal, he has conceded that he made errors of judgment, both concerning the "Penelopegate" affair and in accepting expensive made-to-measure suits from a lawyer renowed for his role as a deal-maker in Africa.
Additional reporting by Sudip Kar-Gupta; Writing by Brian Love; Editing by Richard Balmforth; Reuters