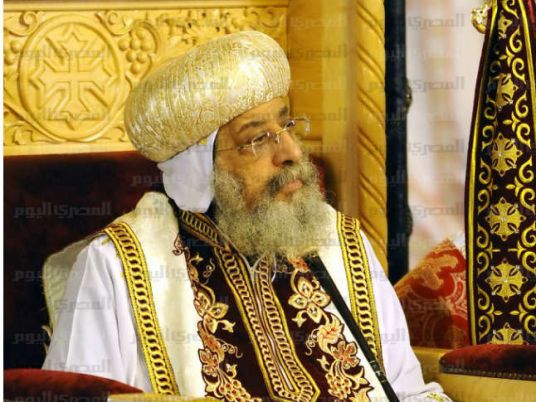 Pope Tawadros II of Alexandria led Sunday mass at Medhane Alem Cathedral in Addis Ababa, Ethiopia, on the second day of his first visit to the African country.
Tawadros II arrived in Ethiopia on Saturday for a four-day visit to attend Feast of the Cross celebrations.
The Ethiopian church and Foreign Ministry representatives as well as the Egyptian Embassy's representatives received Tawadros at Addis Ababa airport Saturday.
The Ethiopian Church organized a large reception ceremony for Tawadros at the Holy Trinity Cathedral where Tawadros delivered a speech stressing the importance of strong relations between Ethiopian and Egyptian churches as well as the peoples of the two countries connected by the Nile River.
In remarks on the sidelines of the visit, Tawadros said that the Nile River carries goodness and prosperity for all and each drop of its water is considered sacred.
The wise political leadership of Egypt and Ethiopia will contain any disagreements regarding the Renaissance Dam project, he added.
Tawadros visted Gofa St. Gabriel's Monastery and distributed gifts to the monastery's orphans. He then met with the Ethiopian foreign minister.
The Egyptian Embassy held a welcome ceremony for Tawadros that was attended by Patriarch Mathias, head of Ethiopia's Orthodox Tewahedo Church, and hundreds of Egyptian, Arab, African, and foreign community members. The visit is scheduled to end on Wednesday.
Patriarch Mathias made a historical visit to Egypt in January 2015.
Edited translation from Al-Masry Al-Youm