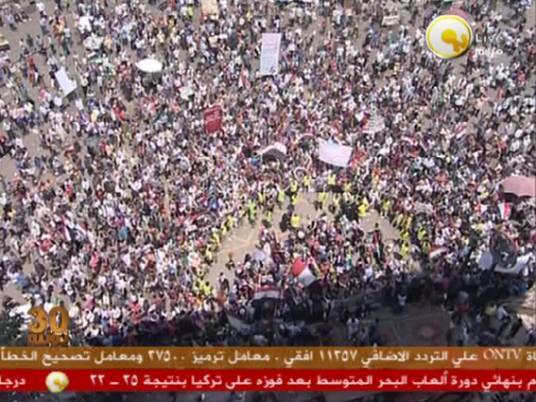 Popular Committees organizing the protests in Tahrir Square have allocated some space to female protesters near Mohamed Mahmoud Street to protect them from potential harassment.
Members of popular committees wore phosphoric uniforms and cordoned off the female protesters, whose ages range from 17 to 60.
Ahmed Mostafa, one of the young members of the popular committees, said, "We want to send a message to the world like we did during the civilized 25 January revolution. Our goal today does not differ much from that of two years and 7 months ago.
Then, not a single incident of harassment was reported in any of Egypt's freedom squares. Tahrir Square, which brought together millions of Egyptians from across the social spectrum, did not witness a single theft or argument."
"We want to bring down the Muslim Brotherhood in a civilized and peaceful way," he added.
Members of popular committees have been deployed to the Square's entry points to check protester's identity cards and search them to ensure that the protests remain peaceful.
Sexual harassment of women is not uncommon in the streets of Cairo. A 2008 report by the Egyptian Center for Women's Rights says two-thirds of women in Egypt experience sexual harassment on a daily basis.
A string of mass assaults on women in 2006 during the feast of al-Fitr prompted the police to increase the number of patrols combating sexual harassment, but legislation regarding perpetrators' punishment was never passed.
Several incidents of sexual harassment have also been reported during protests in Tahrir Square, occasionally victimizing foreign reporters.
Edited translation from Al-Masry Al-Youm