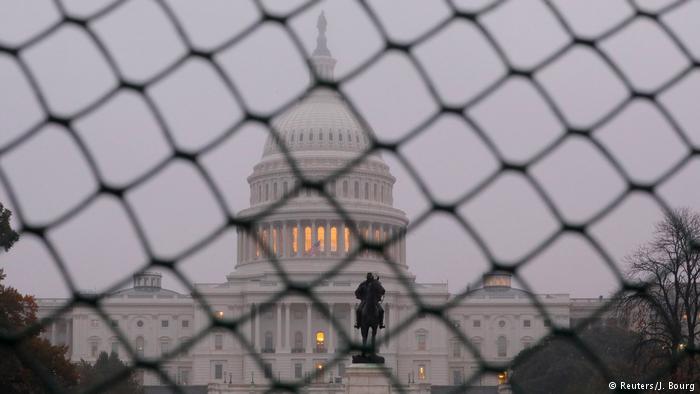 The US midterms resulted in a split Congress with Democrats winning the House of Representatives and Republicans increasing their majority in the Senate. A look at key impacts — and how President Trump fits into it all.
Legislative agenda
Even with a majority in both chambers of Congress and Donald Trump in the White House, Republicans have found it difficult over the past two years to get major legislation passed.
That was not just due to obstruction by the Democrats, but also to internal dissent that repeatedly crippled the GOP on key issues like killing former President Barack Obama's landmark health care actand passing their own health care bill. That's why last year's massive tax cut bill pushed through despite ardent Democratic opposition remains one of the few signature achievements passed by the GOP during its hold on Congress.
If the legislative progress was slow with Republicans in control, it likely will come to a grinding halt with the incoming split Congress, said Philip Klinkner, chair of the government department at Hamilton College. "You'll see gridlock. Nobody has total control."
While each party can present its own legislative ideas, the other party can and likely will nix those plans to prevent the other side from scoring possible points for the upcoming presidential race in 2020.
And while Republicans and Trump remain in the political driver seat, they should theoretically have a greater interest in trying to pass bills to show their constituents that they have done a good job governing. But that traditional logic doesn't necessarily apply in the Trump era. In a contentious press conference after the midterm elections on Wednesday, Trump himself said as much when he told reporters that he would simply blame Democrats for a government shutdown.
Democrats, meanwhile, have little strategic interest in being seen cooperating or compromising with Trump's style of negotiating. "If the past is any prologue, I think he is going to negotiate simply in a sense of 'Give me what I want'," said Victoria Nourse, former chief counsel to Vice President Joe Biden and now the director of the Center on Congressional Studies at Georgetown Law School.
Fresh investigations
Brace yourself: if one thing is certain about the new Democratic-controlled House of Representatives, then it's that lawmakers there are all but certain to launch a whole slew of investigations into Trump and his administration's conduct in office — to go along with the ongoing investigations into Russian meddling in the 2016 election and possible ties to the Trump campaign. The only question is how far-reaching those probes will be, said Nourse.
"The one unknown is how Democrats are going to deal with investigations. There is a lot of pent-up energy in the Democratic Party to find out about things like the president's tax returns, to find out what happened with our electoral system, whether it remains subject to interference by foreign powers, and other investigations about corruption within our Cabinet," she said.
Trump, meanwhile, did not waste any time Wednesday telling Democrats how he would react to probes he would consider too personal or too broad, warning he would take a "warlike posture" against those kinds of investigations.
While Trump's missing tax returns, his business deals and the controversial conduct of Cabinet members like Commerce Secretary Wilbur Ross and Interior Secretary Ryan Zinke are surely all on the investigative agenda, that's nothing compared to the biggie: probing possible Russian connections to the Trump campaign.
And with their new subpoena power, Democrats in the House now have a potent weapon in their arsenal to force potential witnesses to testify and tell the truth in committee hearings.
How Trump — who has repeatedly, and without prompting, maintained there was no collusion by his campaign with Moscow — would react to a Russia-Trump related probe was shown by his actions less than 24 hours after the midterms. After months of a deteriorating relationship he fired Jeff Sessions, his attorney general who refused to curtail or shut down special counsel Robert Mueller's probe into Russian election meddling.
Democrats, similarly did not waste time responding to the ouster of the attorney general. "The firing of Jeff Sessions will be investigated and people will be held accountable," vowed Representative Jerrold Nadler, the likely new chair of the House Judiciary Committee. "This must begin immediately, and if not, then a Democratic Congress will make this a priority in January."
And so the main battle line for the next two years is already drawn, said government scholar Klinkner, who predicts that the resulting clashes between the new House and Trump won't be pretty.
"[Trump] clearly sees the Mueller investigation as a mortal threat to his presidency, maybe even a real criminal threat to himself and he wants to shut it down," said Klinkner. "And he will use every possible means he has at his disposal to do that. So it's going to be crazy for the next two years."
Political climate
It's no secret that the US political climate was deeply divisive even before Trump's arrival on the political stage. And it's clear that in less than two years in office Trump has been responsible for a deterioration of political discourse and public civility, bringing it to a level simply not imaginable prior to his inauguration.
And we probably haven't reached rock bottom yet. That's because the political divide between Republicans and Democrats has been even further exacerbated by the midterm results, said Klinkner.
The new Democratic caucus in the House will be defined by the many freshly elected women, many of them nonwhites and almost all from metropolitan areas with diverse populations. Meanwhile, Congressional Republicans will be mostly white, mostly male and mostly from rural areas.
"Trumpism is really largely an appeal to some sort of white nationalist sentiments in the American electorate," said Klinkner.
When asked to give a preview of what to expect until the 2020 election, he offered this: "Take everything you have seen over the last two years and multiply it times a hundred."