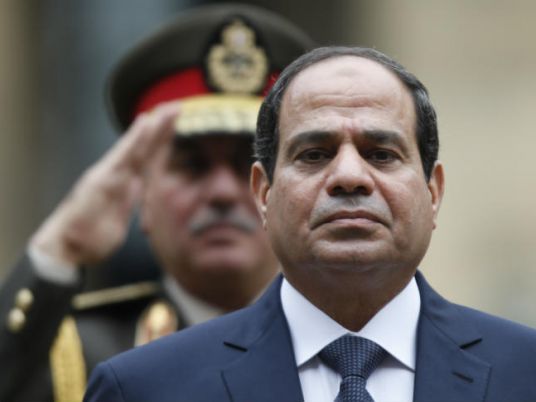 Media figures are still voicing discomfort with President Abdel Fattah al-Sisi's speech on Sunday in which he accused media outlets of disseminating ignorance and ruining awareness among the public.
"One of the presenters said that I was meeting with Siemens and I left Alexandria to drown (in the rainwater)," Sisi said in his speech.
"This is indecent. We are crossing the line in everything," he added, referring to Khaled Abu Bakr, a host at Orbit channel, who criticized the president for not actively following up on the aftermath of the deadly flooding in Alexandria in early October.
"As long as the president meets with the executive directors of Siemens Company 14 times a month, we are not going to build efficiencies,"Abu Bakr had said during the October 25 edition of his show, which was the ammunition behind the president's decision to chide media in his speech.
"The state will get lost. We are spreading ignorance that way, not spreading real awareness," Sisi said in the harshest attack against his media backers who defended his ouster of President Mohamed Morsi in 2013 and his claim to the presidency in 2014.
"When the president said that he would complain about media outlets to the people…those people, and by that he means a specific sector, would react in the way they had witnessed before: besiege the Egyptian Media Production City," wrote Ibrahim Eissa in a Tuesday article in his
al-Maqal
newspaper headlined "Awaiting an Imminent Siege on the EMPC".
Eissa, a longtime fervent backer of Sisi's policies, was referring to protests by supporters of former President Morsi outside the satellite channels compound west of Cairo.
"But would hatred campaigns that state apparatuses would wage against the media stop the floods in Alexandria? Will they stop sewage overflows? Will they attract tourists?…Will they enhance education?" wrote Eissa, adding that the president's speech suggests he is only for supportive media, something which, as he put it, is no different from the policies of former presidents Morsi and Hosni Mubarak.
"The president's attention was drawn by a mere reproach directed to his government circles rather than against him in person, though the one who made that reproach was a media personality close to him," wrote Khaled al-Balshy, a board member at the Journalists Syndicate, in an article for Albedaiah news website.
"The president was not concerned, however, with syndicate reports about the detention of more than 32 colleagues of that presenter. More than 20 of those were arrested for merely doing their job," continues al-Balshy.
"Who is promoting illusions?" wrote Hamdy Rizk in Al-Masry Al-Youm. "Let your government speak less of billions it has promised over the past 17 months," said Rizk, who is known for his pro-Sisi columns, referring to major projects adopted by Sisi's government.
Some in the media believe the media's reaction to the president's criticisms were inordinate.
"President Sisi has never instigated against the media," said Salah Eissa, chairman of the Supreme Council of Journalism. "The president's words were directed toward media for misjudging some matters, causing embarrassment for the state and causing tension in the state's relationships with other countries, and belittling projects the president considers as important," Eissa told Al-Masry Al-Youm.