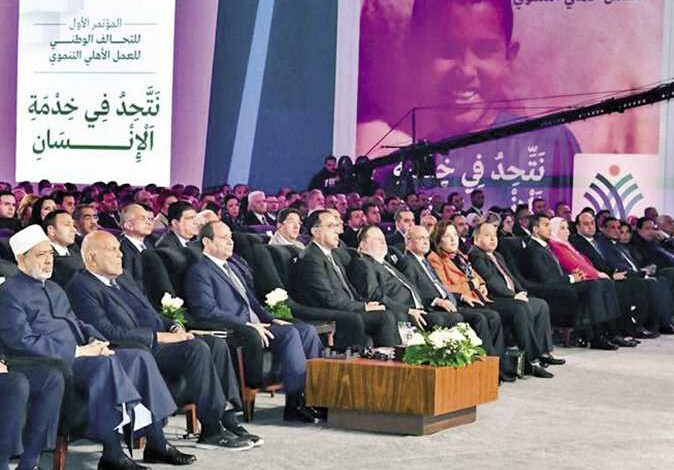 Egyptian President Abdel Fattah al-Sisi attended the launch of the activities of the first conference of the National Alliance for Civil Development Work, on Monday, in the presence of Prime Minister Mostafa Madbouly.
The President expressed hope that 2023 will witness more efforts in the field of civil work.
He stressed: "The circumstances at present are very difficult for everyone and people will continue to complain without knowledge. I am speaking frankly, we call on people to listen to us, because we are aware of the magnitude of the challenge more than others."
"Data, numbers and solutions suggest that the government is giving explanations to avoid confusion and not disturb citizens.
The world and Egypt are currently facing  pressure and harsh conditions on all people," President Sisi said.
Sisi wondered "If people are intimidated then what will the result be?".
He also stressed that this will not be in the interest of everyone, asking: "Will we abandon Egypt if the circumstances are difficult?"
He continued, "did we go to any unnecessary wars or commit to risks in which we wasted Egypt's money?".
The whole world is facing difficult conditions, and the Russian-Ukrainian crisis and coronavirus pandemic within two years were not made by Egypt, as Egypt pays for these crises like the rest of the world.
President Sisi said that the importance of the role of all associations and entities operating within the framework of charitable work that provide assistance in areas that the government alone cannot fulfill, praising the well-coordinated and great role of the alliance, which has achieved great results.
He said that civil society organizations are playing a key role that the government cannot play on its own, as there are about 50,000 associations in Egypt.
Sisi called on the alliance and all civil society entities to intensify their efforts during 2023.
Given the ongoing global economic conditions, noting to that the alliance has announced a provision of LE 14 billion for charitable work.