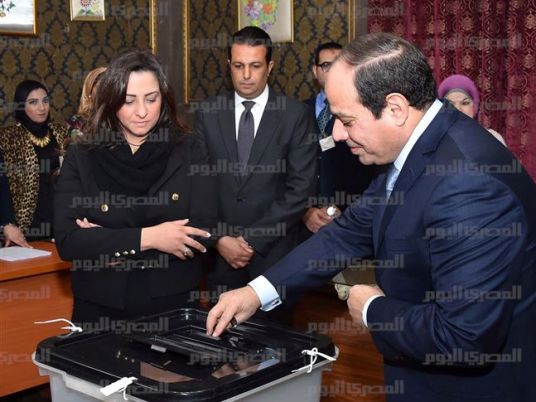 The National Elections Commission (NEC) called on citizens to cast their votes in the presidential elections starting March 16 for Egyptians abroad for a period of three days, and from March 26 to 28 for citizens residing in Egypt.
The runoff will take place on April 19, 20 and 21 abroad, and on April 22, 23 and 24 in Egypt.
Lashin Ibrahim, Chairman of the NEC, announced that presidential hopefuls can submit their candidacy documents from January 20 to 29 at the commission's headquarters on Qasr al-Aini Street.
The list of candidates will be published in Al-Ahram and Al-Akhbar newspapers on January 31.
The candidature applications will be examined on February 5 and excluded candidates will be notified on February 6 at their residence. Grievances will be received on February 7 and 8 and appeals against candidates will be accepted on February 10 and 11 February. The commission will decide on appeals from February 12 to 22.
He added that the final list of candidates and electoral symbols will be announced on February 24.
Lashin added that the results of the first phase of elections will be announced on April 2. Campaigning for the runoff will end on April 22 in Egypt, and on April 18 abroad.
Vote counting will be completed on April 27 and the final result will be announced on May 1.
Lashin called on all those who meet the conditions and believe that they can bear the responsibility of running Egypt to submit their candidacy papers, so people can freely choose among them.
He called on citizens and media to verify news about the commission before circulating them.
Edited translation from Al-Masry Al-Youm