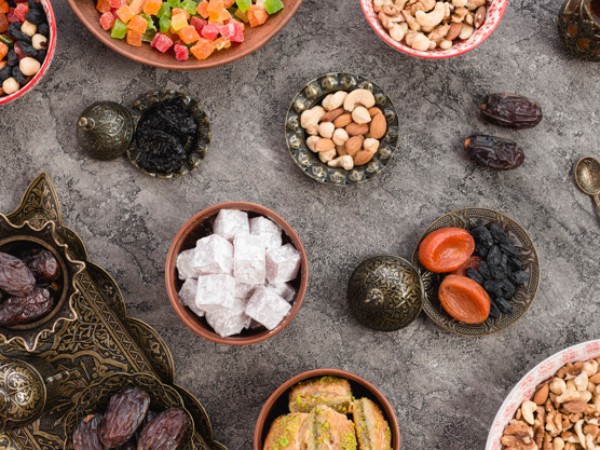 Al-Masry Al-Youm monitored the prices of Ramadan's Yamish (dried fruits and nuts), which rose affected by the recent wave of high prices.
The price of a 12-kg pack of dried figs reached LE175 and the five-kilo pack LE155, Haitham Owais, the owner of a wholesale shop on Bab al Bahr Street, said.
The price of a 10-kilo French prune pack is LE145 and the Argentine prune is LE135.
A pack of 50 rolls of Qamar Eddin (apricot fruit leather) is LE440 for local and up to LE810 for imports.
Thirty-six rolls of dried figs, each weighing 300 grams, ranges between LE110 and LE120, while the price of Giza Governorate dates per kilo reached LE10 for wholesale traders and LE20 for consumers.
The price of New Valley dates reached LE15 per wholesale kilogram, and the price of Aswan Governorate date starts from LE7 pounds to LE25. It is sold to consumers between LE25 and LE60.
The price of oasis dates reached LE11 per wholesale kilogram and is sold to consumers at LE20.
Abdo Nazih, another owner of a Yamish shop on Bab al-Bahr Street, said that prices increased in varying proportions from last year due to the rise in import and customs costs, as the prices of apricots, prunes and dried figs increased by about 100 percent compared to last year.
He added that the price of Spanish prunes reached LE 130 while the Moroccan LE 170 per kg, while the price of Syrian apricots reached LE290 and while Turkish are LE220 per kg.
The price of Syrian dried figs per kg is LE170 and the Turkish LE210.
He added that the prices of nuts increased by 10 percent compared to last year, and pointed out that there is a stagnation of 50 percent due to the increase in prices.
Essam Abdel Wahab, a dates importer, said that the quantities of Egyptian dates cover the needs of the Egyptian market, adding that the the prices are still within the reach of the average consumer, especially since local dates are of the highest quality.
The Secretary General of the Importers Division Muhammad Rostom assured that the Ministry of Supply is intensifying crackdowns on the markets to control the prices of Ramadan Yamish to protect consumers from exploitation.
Edited translation from Al-Masry Al-Youm