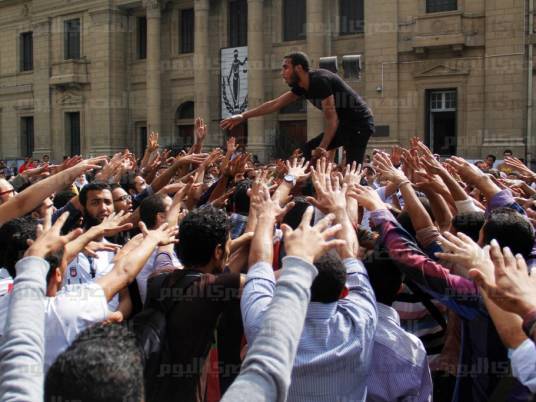 Students at Cairo University staged a protest in al-Nahda Square on Sunday to show support for toppled President Mohamed Morsy ahead of his trial tomorrow.
Students broke the locks of the university's main gates, reaching the square which had previously been shut down by security forces.
Pro-Morsy students gathered in the middle of the square and chanted "Down with the military rule," "The coup is terrorism," and "Tomorrow afternoon Morsy will be in the palace." They raised banners against the Interior Ministry.
The armed forces had closed entrances to al-Nahda Square using armored vehicles and Central Security Forces units deployed around Cairo University, following orders from the Cabinet.
Since the start of acedemic year in September, universities have been swept by demontrations demanding Morsy's reinstatement, especially at Al-Azhar University.
Morsy is scheduled to stand trial on 4 November over charges of inciting murder in clashes outside the presidential palace in December 2012.