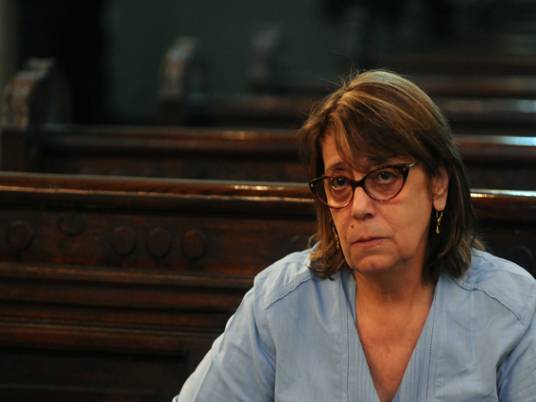 Magda Shehata Haroun was chosen to head the Egyptian Jewish community because of her young age, notwithstanding her remarkable personality. At 60, Haroun is the youngest Egyptian Jew in the community.
Haroun feels the great responsibility placed on her shoulders. Haroun has not had an easy life, even as a child.
As a child, Magda Haroun paid the price for her father's struggle. Shehata Haroun, her father, was a communist lawyer and co-founder of the Tagammu Party. She still remembers the times when security forces turned up at the house at dawn to take her father away.
She paid visits to him in prison while a student. Her peers sympathised with her because her father was a political prisoner.
Haroun was born in Alexandria in 1952. She went to Lycee Bab al-Louq School, then studied applied arts at university. She is the mother of two daughters, and can speak Arabic, English, French and Italian.
Haroun was selected to head the Egyptian Jewish Community Council after the late Carmen Weinstein, who died in April.
Since taking over, Haroun has expresed a desire to open the community up to Egyptian society, something which was arguably not made easy under the rule of the Muslim Brotherhood.
Haroun has spoken to the media and opened up the doors of Cairo's Adly Street synagogue to Egyptian citizens for the first time.
Haroun chose not to isolate herself from Egyptian society at any time, even during the revolution.
She participated in many protests demanding "bread, freedom and social justice" as well as a democratic civil state, and recently participated in the 30 June protests that lead to the overthrow of President Mohamed Morsy in her capacity as figurehead of the Jewish community.
Her post does not stop her from participating in protests for the sake of her country, she claimed. For her, being the daughter of Shehata Haroun is of more importance than her presidency of the Jewish community.
Edited translation from Al-Masry Al-Youm