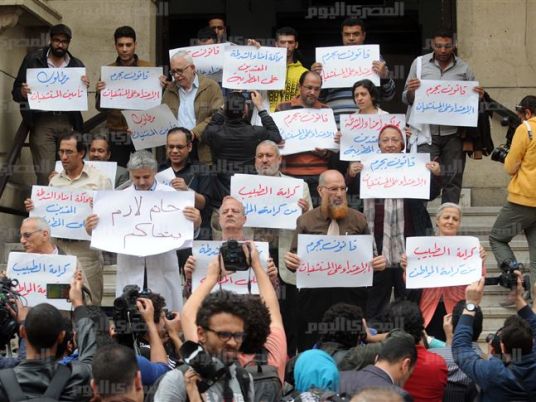 Egypt's public prosecutor referred on Wednesday nine policemen accused of assaulting doctors at the Matariya teaching hospital in January to court.
According to a statement by the doctor's syndicate, the defendants are charged with withholding two doctors unjustly, assaulting public service employees while carrying out their jobs, abusing their power as policemen and verbally assaulting the doctors.
The incident dates back to January 28 when a video published by Egyptian news portal Mobtada featured one of the assaulted doctors who works at the hospital detailing the assault against him by low-ranking policemen as he attempted to provide one of them with healthcare.
Doctor Ahmed Abdallah recounted in the video details of how he was "dragged" and "handcuffed", after he told a low ranking policeman that his wound was "superficial" and would likely not require stitches.
As tensions escalated, more low-ranking policemen arrived at the hospital and Abdallah was thrown into a vehicle, by which he and a colleague were taken to the police station.
Last February, thousands of doctors gathered in front of the doctor's syndicate to protest the assault on the doctors and demand those accused to be brought to justice.
Several cases of police violence have been reported over the past month, causing public outcry.
In late April, a low-ranking officer shot and killed a tea vendor and injured two more people after a quarrel over his refusal to pay for a cup of tea, in the upper-class Eastern Cairo neighbourhood of Rehab.
Just one day after the incident, President Abdel Fattah al-Sisi stressed the importance of deterring "irresponsible" police behavior on the streets.
On February 18, a policeman shot dead a driver in the al-Darb al-Ahmar neighbourhood in a fight over the cost of loading goods.
The incident sparked public outrage at the police and hundreds took to protest in Cairo's streets after the killing, in an expression of anger that has become rare in the past few years.
The policeman was sentenced to 25 years in prison.
While human rights workers, activists, and even non-politicised civilians have been increasingly calling out on police brutality over the past few months, the interior ministry maintains that these are "isolated incidents" that do not reflect on the entire ministry.
Police brutality was one of the triggers of the January 25, 2011 Uprising, sparked by protests on Police Day in Egypt aimed to draw attention to the police's use of excessive, at times fatal, force.