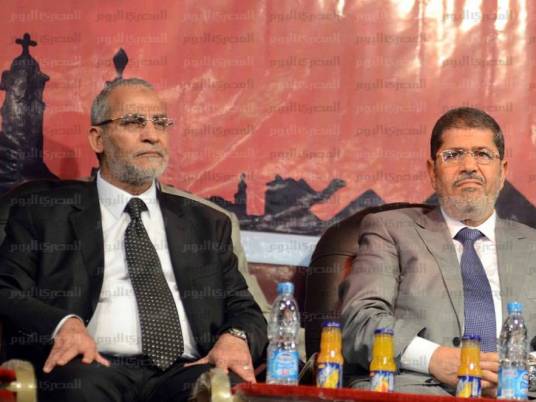 Ousted Egyptian President Mohamed Morsy has not been questioned over the Muslim Brotherhood's involvement in a 2011 prison break, according to assistant Prosecutor General Adel al-Saeed.
AFP, citing judicial sources, earlier reported that investigators had begun questioning Mohamed Morsy and members of his Muslim Brotherhood on Sunday.
However Saeed claimed the prosecution has not yet heard Morsy's testimony.
The prosecution is still gathering evidence and examining reports filed against the ex-president and a date has yet to be set for his questioning, he added.
The intended inquiry follows allegations that Morsy and senior Brotherhood members escaped from Wadi al-Natroun prison during the uprising that ended former president Hosni Mubarak's three-decade rule.
Investigators are reportedly examining whether foreign groups such as Palestinian Hamas and Lebanese Hezbollah were involved in the jailbreak.
The news comes hours after the public prosecutor received complaints against Morsy and other Brotherhood leaders, accusing them of spying, inciting violence and damaging the economy.
Morsy, who was overthrown by Egypt's powerful army on 3 July, is being held in a "safe place," interim leaders have said.
His supporters accuse the military of violating democratic principles by removing an elected leader from office, and have vowed to keep fighting for his reinstatement.
The interim authorities are working to an army-drafted roadmap, and Prime Minister Hazem al-Beblawy is closer to forming a cabinet.
Parliamentary and presidential elections are expected next year.