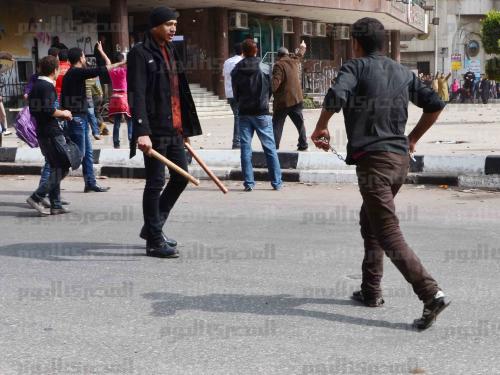 Fighting between protesters and security forces has injured at least 14 people, including five police, in Mansoura in the Daqahliya Governorate.
Central Security Forces fired tear gas in response to the Molotovs and stones hurled by protesters, who also set tires on fire in the middle of Suez Canal Street.
Several protesters and passers-by near the city's old security building suffered the effects of tear gas inhalation. Security also arrested protester Wessam al-Shahat inside a Mansoura hospital, where he had accompanied one of the injured.
Dozens of protesters had withdrawn from the Thawra Square earlier on Wednesday, and several women also protested against the injury of a female demonstrator amid stone-throwing.
Confrontations erupted Monday between government supporters and opponents outside the governorate office, which protesters had attempted to close as part of a civil disobedience campaign against President Mohamed Morsy.
Several provinces have witnessed violence between security forces and demonstrators since 25 January, when opposition groups marked the second anniversary of the 2011 revolution that ousted former President Hosni Mubarak, with areas in the Nile Delta and along the Suez Canal being particular hotbeds of unrest.
Edited translation from Al-Masry Al-Youm