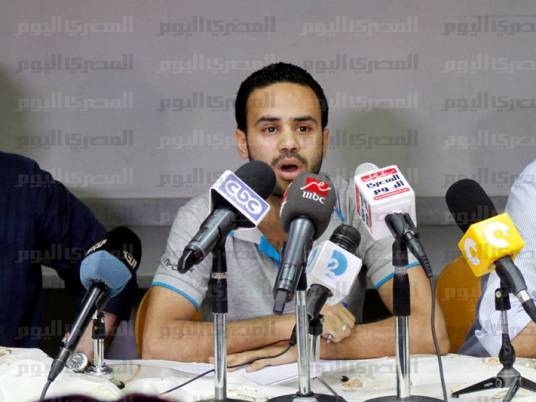 Protesters have been flocking since Tuesday morning to Mohamed Mahmoud Street at Tahrir Square to commemorate clashes with security forces back in 2011 which left at least 40 dead.
The 2011 encounters flared when security forces dispersed a sit-in at the square by families of those killed and injured during the uprising against former president Hosni Mubarak.
Demonstrators closed the street which leads to the Interior Ministry, hoisting flags bearing pictures of some of the 2011 victims, and chanting slogans calling for retribution.
Traffic at Tahrir, however, has been moving normally. Police forces were totally absent from the scene.
Hours ago, some protesters demolished a memorial erected Monday by the interim government in the square's central island which authorities said was designed to commemorate victims of the 2011 clashes and uprising. Some revolutionary groups, however, believe the step is an attempt to cajole them, demanding, instead, practical steps to hold accountable perpetrators behind protesters' murders.
Political groups have been divided over participation in the event, with some preferring to abstain to avoid potential clashes if Islamist groups do attend.
Tamarod, the grassroots group and the driving force behind the ouster of former president Mohamed Morsy, said Tuesday it was not going to take part in the event.
Tamarod announced early on Tuesday cancelling the commemoration of Mohamed Mahmoud Street clashes nationwide after the memorial set up in Tahrir Square was destroyed Monday evening by protesters.
Tamarod said in a statement published on its Facebook page that its decision was based on "confirmed information by grassroots that elements of the terrorist Muslim Brotherhood will carry weapons and inflitrate Tahrir Square rally pretending to be revolutionary youth."
"[The Muslim Brotherhood] wants to drag the revolution and the youth to violence and clashes that would result in casualties," the statement read.
The statement called on people not to take part in the event so as not to give the Muslim Brotherhood "an opportunity to involve the revolutionary youth in clashes again, serving darkness and terrorist powers' interests."
Tamarod's statement mentioned that bringing justice to the martyrs would be through establishing a just regime.