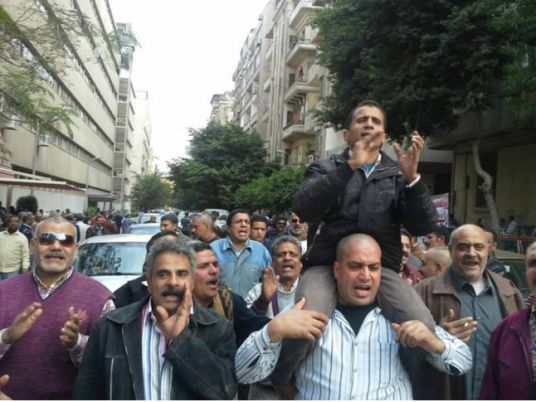 Protests have returned outside various government offices with citizens voicing multiple grievances regarding unemployment and lack of appropriate housing.
A number of 2014 university graduates met with Prime Minister Ibrahim Mehleb late Sunday in order to complain about the failure of government bodies to abide by an employment order they had obtained from the Central Agency for Organization and Administration.
Following the meeting, one job-seeker told Al-Masry Al-Youm that the prime minister vowed to resolve their issues by Tuesday.
The meeting took place after the students had staged a protest outside the Cabinet's rear gate hours earlier. "Unemployed with an MA", read the banners hoisted by some demonstrators.
In the same area, a number of physically disabled individuals protested against the lack of appropriate lodging.
"Dozens of us submitted requests for housing more than seven years ago, but they have not been looked into until now," said the leader of the protest, adding that neither the Cabinet nor Cairo governorate have responded to their requests.
"We want our rights, we want flats," chanted the demonstrators.
Outside Gharbiya Governorate, a group of teachers from al-Azhar seminaries demanded the reinstatement and permanent employment of 130 people.
"We worked for three years based on annual contracts. We were scheduled for permanent employment this year, but were surprised with unjustified dismissal," one of the teachers said. "We were receiving humble payments throughout the past years".
In Alexandria, dozens of mosque workers staged a protest outside the Ministry of Endowments' office to demand employment by the ministry. A ministry source said that more than 15.000 temporary workers have not been employed yet.
Sheikh Mohamed Abdel Razek, a senior official at the ministry, said 1,800 had been picked up for permanent employment starting May.
Edited translation from Al-Masry Al-Youm