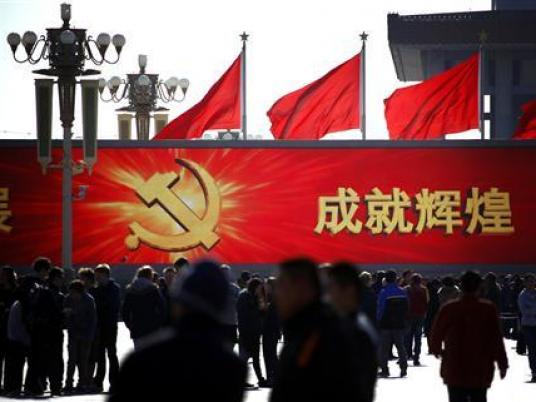 This month's crackdown on protests in China's Wukan village was ordered by the provincial leader under pressure to prove his mettle ahead of a pivotal Communist Party congress next year where he could reach the top table of power in China, sources close to the leadership say.
Guangdong party boss Hu Chunhua, at 53 one of the two youngest members of the party's 25-member Politburo, is a candidate for the seven-person Politburo Standing Committee, the apex of Chinese political power, according to analysts and several sources with ties to the central leadership.
The pacification of Wukan, where villagers had marched for over 80 days since mid-June in protest at the jailing of democratically elected village chief Lin Zuluan, was crucial to Hu's chances, the sources said.
"It's a test of Hu Chunhua's ability," one of the sources with central leadership ties told Reuters.
The source added that the leadership's view of Hu's handling of the Wukan situation would be an important factor in determining whether he makes it onto the Standing Committee.
Hu couldn't be reached for comment, and there was no reply to requests for comment from China's State Council, or cabinet, nor from Guangdong's Public Security Bureau and the Lufeng government, which has direct jurisdiction over Wukan.
The fishing village came to prominence in 2011, when it rose up against land grabs by local officials and wrested concessions including a free vote to elect Lin and other village leaders from Hu's predecessor as Guangdong boss, Wang Yang, now a vice premier in Beijing.
The protesters this time were beaten back by rubber bullets and tear gas, and by hundreds of police in riot gear, who made scores of arrests and barred Hong Kong and foreign journalists from the area.
A source close to senior officials in Guangdong said Hu opted to take a harder line on Wukan to minimize risks to his prospects and any perception of weakness from a repeat of the climb-down in 2011.
He took that option after leaders in Beijing made clear they
wanted it suppressed, said a second source with central leadership ties.
"The central leadership held a meeting (recently) and decided that Wukan should be dealt with appropriately," the source said, adding that Hu was facing a delicate situation.
The possibility that the Wukan protests could spread to other villages or mushroom into a nationwide pro-democracy movement is particularly unwelcome in Beijing ahead of the party congress next autumn, when precedent suggests a sweeping reshuffle could replace five of the seven PSC leaders.
"There can be no noise pollution," a senior Chinese official in Beijing told Reuters. "Threats to stability must be nipped in the bud."
The crackdown received extensive coverage in Hong Kong, just 200 kilometers (125 miles) to the southwest, which held massive street protests in late 2014 demanding full democracy and this month angered Beijing by electing several independence advocates to its legislature.
Media blackout
For now at least, Wukan appears defeated.
"We have no weapons; how could we fight back? People aren't going to stand up anymore. We're finished," said a villager who brought drinks and snacks to three Reuters journalists as they hid out while police were searching for journalists in the village.
After journalists' departure following police pressure, there has been scant information coming out of Wukan; communications have been largely severed, social media posts censored, and mobile phone calls blocked or scrambled.
Four villagers told Reuters that authorities had offered a 20,000 yuan ($3,000) reward for tip-offs leading to the capture of journalists.
"Anyone who helps a journalist will be arrested," one local with a shoulder wound from a rubber bullet told Reuters last week in a village house. "I'm afraid of them catching me; they may beat me to death. There are informers everywhere."
"The presence of reporters in Wukan is not conducive to our work," the senior Chinese official in Beijing told Reuters.