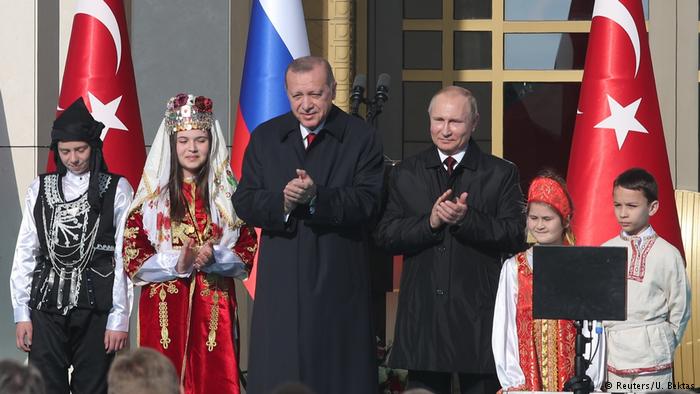 The start of the Akkuyu nuclear power plant is another sign of cozy relations between Turkey and Russia. Turkish, Russia and Iranian leaders are to hold a summit on Syria.
Russian President Vladimir Putin and Turkish President Recep Tayyip Erdogan on Tuesday took part in a symbolic ceremony marking the construction of Turkey's first nuclear power plant.
The two leaders watched cement pouring at the $20 billion (€16.3 billion) Akkuyu nuclear power plant through a video link from Erdogan's sprawling 1,100 room presidential palace in Ankara.
The joint venture already broke ground once in 2015 before being put on hold after Turkey shot down a Russian warplane along the Syrian border, causing relations between Moscow and Ankara to nosedive.
A U-turn in relations has witnessed the two countries closely cooperate on Syria and expand economic ties.
Putin and Erdogan met eight times last year and spoke often, signaling the two leaders have been able to compartmentalize their differences at a time when both countries face deteriorating relations with the West.