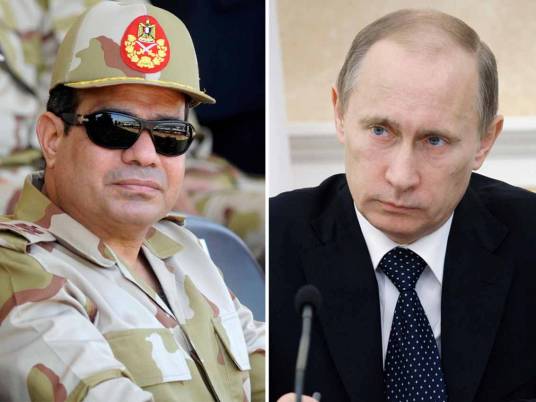 Russian President Vladimir Putin described the decision of Defense Minister Abdel Fattah al-Sisi to run the presidential elections as a "responsible decision," according to the Russia Today Channel.
Sky News Channel reported that the Russian president announced his support for the candidacy of Sisi in the presidential elections.
The first presidential election, after the overthrow of President Morsy in July, is expected to be held in few months. Interim President Adly Mansour had announced that the presidential elections would be held before the parliamentary elections.
Founder of the Popular Current and former presidential hopeful Hamdeen Sabbahi has officially announced running the race again. The campaign of former presidential hopeful and human rights lawyer Khaled Ali said he would announce his presidential bid within days.
Sisi said that his current visit to Moscow will give a new impetus to the development of military-technical cooperation between Russia and Egypt.
Sisi stressed in press statements quoted by Russia Today news website, on Thursday, that the cooperation between Egypt and Russia will always depend on mutual interests and is for the benefit of the two countries.
Sisi expressed his gratitude to the Russian Minister of Defense Sergey Shoygu for the warm reception and congratulated the Russian side for the start of the Winter Olympics in Sochi, southern Russia.
Sisi, accompanied by Egyptian Foreign Minister Nabil Fahmy headed to Moscow for economic and military talks.
Edited translation from Al-Masry Al-Youm