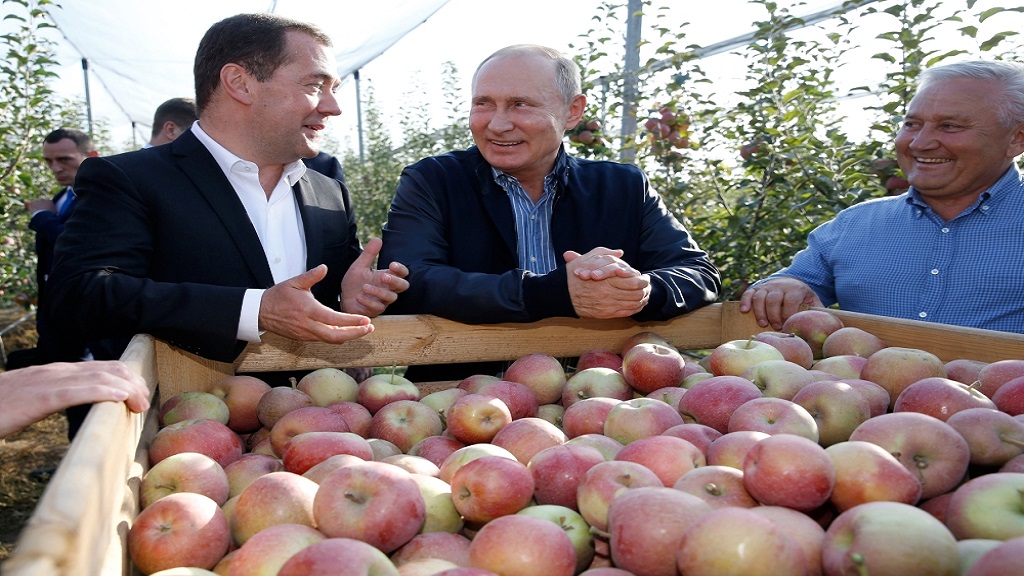 Russian President Vladimir Putin said that Russia would promote the Rassvet agricultural company's products to Egyptian President Abdel Fattah al-Sisi during his visit to Moscow on October 17, Russia Today's (RT) website reported on Tuesday.
During Putin's visit to Rassvet's farms in Stavropol territory, he said he would receive the Egyptian president and told the employees, "Let's offer him your apples."
Putin added that he would gladly give all "gifts of Stavropol" to Sisi.
Meanwhile, Chairman of the Rassvet agricultural company Marat Galeyev asserted that the company plans to penetrate foreign markets, notably in the Middle East.
Russian Prime Minister Dmitry Medvedev also advised Putin to provide Saudi Arabia and the United Arab Emirates with Russian agricultural products, saying, "Our relations with [the two countries] are very good."
Medvedev explained that Russia would offer high-quality products to the Middle East at costs lower than European Union products.
Sisi previously visited Russia three times, in August 2014, May 2015 and August 2015, while Putin visited Egypt in February 2015, when both leaders signed an initial deal for the construction of Egypt's first nuclear-powered, electricity-generating plant in Dabaa and discussed deals of Russian arms to Egypt, including MiG-35 fighters, Kamov Ka-52 "Alligator" helicopters and T-90 tanks.
Edited translation from Al-Masry Al-Youm