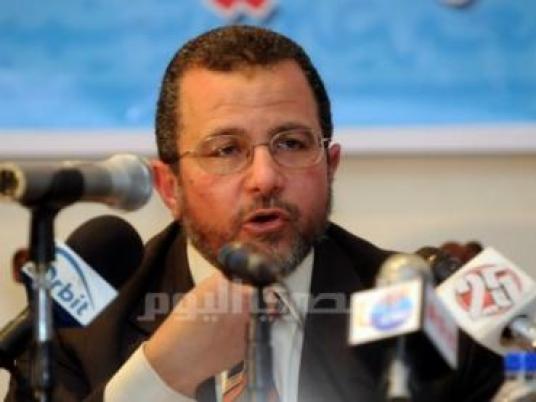 Egypt's new prime minister said on Sunday he was finalizing an economic reform plan that would rein in hefty subsidies and said the economy is expected to grow in the current financial year by three to four percent or more if investment goals are achieved.
Hesham Qandil told Reuters in a rare interview that the government aims to cut the budget deficit, now running at about 8 percent of gross domestic product, by one percentage point in two years although he said that target was "dynamic."
Egypt has been on the ropes since foreign investors and tourists, two vital cash streams, fled after the uprising that toppled Hosni Mubarak last year. The revolt gave Egypt its first freely elected president, Mohamed Morsy, who appointed Qandil in July.
Once a darling of frontier market investors with growth of about seven percent a year, the Egyptian economy has sputtered along, growing just two percent in the financial year that ended in June.
Determined to draw in investors who want to see hefty cuts in fuel subsidies and other reforms, Qandil's cabinet also has to sell economic restructuring to Egypt's 83 million people, many in dire poverty and desperate to see the benefits of the revolt.
"For this year, we hope that we will get around three to four percent (growth) and after that we will jump to four, and then four to five, and hopefully in a few years we will come to seven percent," the 49-year-old said, adding Egypt could hit seven percent in four years.
Qandil said his government was finalizing its economic reform program and the draft would be reviewed next week with President Morsy, Egypt's first civilian president who was propelled to power by the once banned Muslim Brotherhood.
Qandil said the government wants to make fuel and other subsidies more targeted and a coupon or smart card system to ensure the poor, rather than everyone, received subsidized butane cooking gas was expected to start in October.
Flexible
There will also be cuts to gasoline subsidies in the coming months, he said, adding that these measures were part of efforts to reduce the budget deficit by one percentage point in the next two years, although he said targets would depend on what the population could tolerate.
"Those targets are dynamic. We have to look at what kind of support we will get and how the people will react to these measures," he said. "I am sure many of them will react positively, but of course we might have some difficulty so it will be a flexible thing too."
He said that after the president had reviewed the reform plans, there would be a public consultation about the program. "Hopefully by the beginning of October we will open this for discussion. That also stands true for the IMF program," he said.
He was referring to a request for a US$4.8 billion loan from the International Monetary Fund, part of a bid by the government to shore up its finances after foreign reserves plunged to about $15 billion, about half their level before the revolt.
Responding to investor concerns that the Egyptian pound could be devalued, Qandil said the Central Bank was managing the currency in a flexible way but said investors should not delay.
"So investors should not wait for the pound to devalue. This is not going to happen soon. So now is the right time to get into the market," Qandil said, echoing comments made by the president to Reuters last month.
Meanwhile Qandil said the government needed to boost revenues as well as cut spending through more targeted subsidies, by casting the tax net wider.
"We need to look at our taxation system so it covers more people, not necessarily that we tax more. But it would be better to tax more people," he said. "We'll try to get them into the formal economy, and we will do that very soon."