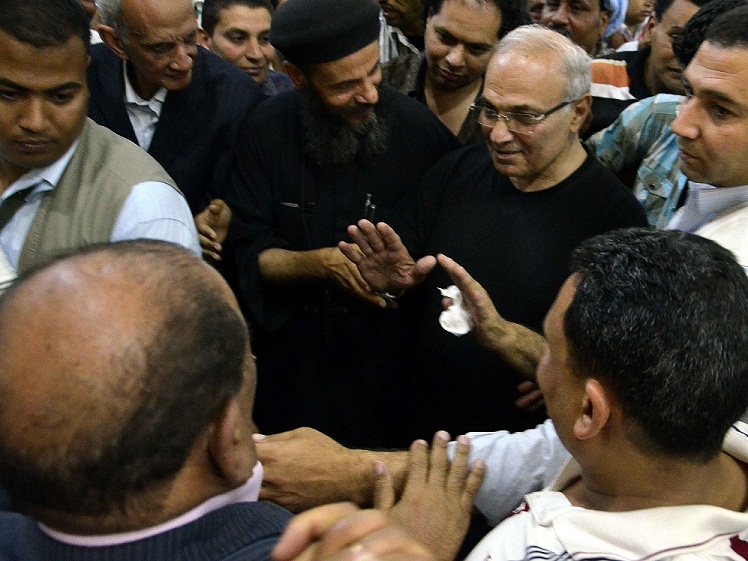 QENA — Visiting the Upper Egyptian city of Qena for the second time in three months, presidential candidate Ahmed Shafiq has been garnering support from members of influential tribes in the governorate, an important element of a successful campaign in the country's south.
Qena is dominated by three major tribes: Ashraaf, Hawara and Arab, each consisting of at least half a million members. Qena has a population of over 3 million people.
The governorate is also home to an influential Coptic community, within which many leaders also say they support Shafiq, who climbed the ministerial ladder under former President Hosni Mubarak to be appointed prime minister in the final days of his toppled regime.
A previous poll conducted by Al-Ahram Center for Political and Strategic Studies noted that both Amr Moussa, who served as foreign minister under Mubarak, and Shafiq enjoy higher support than other candidates in Upper Egypt.
Ahmed Farid Abdallah, a farmer who belongs to the Hawara tribe, said that people see Moussa and Shafiq as "leaders" capable of achieving stability in Upper Egypt.
"I see them as the ones who can solve the problems we have been suffering from, such as the spread of [illegal] arms and armed robbery everywhere," he said.
Described as the "capital of feloul," the Arabic word used to describe remnants of the Mubarak regime, Qena has been a traditional bastion of support for the former ruling National Democratic Party.
Salah Eddin Ibrahim, a 40-year-old government employee, described relations between tribes and the NDP as an "illegitimate marriage."
"Tribes chose to be an endless asset for the NDP, and in return the NDP would ensure for the families that their members would join top posts in the state, such as [posts with] the police and the judiciary. This is in addition to parliamentary seats," he said.
But such plutocratic maneuvering has been challenged by the 25 January revolution and Mubarak's ouster from power.
"Tribal figures are aware that they are losing most of the privileges they had obtained through their relationship with the NDP," said Ibrahim.
In the first post-Mubarak parliamentary elections, most figures in Qena's three major tribes lost their seats. Islamists swept most of Qena's 18 allocated seats in the People's Assembly.
Struggling to stem these social and political losses, former NDP members see Shafiq in particular as a tool to reclaim their former statuses.
Playing to Qena's tribal makeup
Weary of the tribal divisions in Qena, the savvy Shafiq, unlike other presidential candidates, chose not to meet his supporters in just one place. On Friday, he visited two villages dominated by members of the Hawara and Arab tribes, respectively. He also visited two churches.
Arriving in Qena from Aswan, Shafiq did not attend Friday prayers at the famous Abdel Rahim al-Qenaei Mosque, as was expected. Altercations erupted inside the mosque between those who had gathered there both to support and oppose him. After the tumult, worshipers forced Shafiq's opponents to leave the mosque as the worshipers considered their behavior an insult to a "guest."
Mohamed Mahfouz, one of several worshipers who forced Shafiq's opponents to leave the mosque, told Egypt Independent he is not a Shafiq supporter but refused to have the mosque transformed into a "battlefield" and to deny a Muslim from entering the site.
"These [people from the] Muslim Brotherhood and [Qena's revolutionary youth coalition] are shaming us. They are ignoring our traditions," he said. "We don't mistreat a guest. It's against Islam to deny a Muslim entrance to a mosque."
Later in the afternoon, Shafiq finally arrived at the famous mosque and was warmly welcomed by members of Ashraaf tribe. Women in the mosque ululated as he was received.
He shook hands with many people inside the big mosque. Many worshipers praised him when he expressed a desire to recite the fatiha (the opening verse of the Quran) at the tomb of Abdel Rahim al-Qenaei, a famous 12th century Sufi preacher and important symbol in Qena.
Members of his campaign introduced Shafiq as a "modest man" who likes to speak with "simple and ordinary people."
After finishing his tour of the mosque, Shafiq took his campaign bus to the villages of Samata and Heo. He was guarded by two police cars and three cars filled with armed members of the Hawara and Arab tribes.
In Samata village, an infamous site of vendetta killings and illegal weapons, Shafiq was welcomed by Shura Council MP Sayed Abu Zaid, a former NDP member, and hundreds of supporters.
A local man speaking at the rally described Shafiq as a giant who will fight to implement the law. The presenter also said Shafiq is the only man capable of ending the "chaos" caused by the revolution.
MPs who once belonged to the NDP and lost their seats in the recent parliamentary elections also attended the rally.
In the nearby town of Nagaa Hammadi, Shafiq reiterated his respect for Upper Egypt to thousands of supporters. The rally was organized by MP Hesham al-Sheiny, leader of the Freedom Party, which was formed by former NDP members.
Targeting Qena's Coptic voters
Shafiq received a warm welcome by Copts in both the St. Mark Cathedral and St. Badaba Monastery, which is one of the oldest monasteries in Egypt.
"I pray for you so you can become president," said Father Hedra of St. Mark.
Youssef George, a young man in his early twenties who went to the cathedral to welcome Shafiq, told Egypt Independent Copts know very well that Shafiq is not only the best choice for them, but also for Egypt.
"He is a man with many skills," George said. "His achievements with Cairo [International Airport] tell you that he will repeat these achievements in the whole country."
But Shafiq's past achievements are not the only thing Copts see in the candidate.
At St. Badaba Monastery, where Shafiq was welcomed by scores of Copts and clergymen, he was addressed as the "only presidential candidate who clearly stands against a backward state. He is a clear supporter of a civil state."
A middle-aged Coptic man at St. Badaba told Egypt Independent that Copts feel Shafiq is the only candidate who could fight against discrimination of Christians, a religious minority.
"Every candidate is saying sweet words to Copts. We are listening to all of them but we are aware of who is going to protect us," said the man, who preferred to remain anonymous. Behind him, a big banner of Shafiq was hung from one of the monastery's walls.
Some worry that Coptic support for Shafiq could hurt his image, as conservative Muslims might view him as the candidate of Copts.
"Copts favor Shafiq because he is the best candidate for Egypt. We fear that the election will be another religious clash," said George, referring to the referendum vote over the March 2011 Constitutional Declaration that broke down mostly along sectarian lines.
Does the Coptic vote matter?
It remains unclear whether Copts, who constitute roughly 10 percent of Egypt's 82 million people, could form a major electoral bloc in the election. The same goes for tribal voters.
In the last parliamentary elections, 54 percent of nearly 50 million eligible Egyptians voted.
The Muslim Brotherhood-led Democratic Alliance bloc received some 10 million votes, which netted it 235 seats in the People's Assembly.
Local commentators say that tribal support for Shafiq means that tribal representatives will be in full control of all the polling stations in their districts. All of these tribes have massive amounts of illegal guns.
"We know this but we will struggle to monitor the vote in these areas, and if they use violence to deter us from monitoring or deny our supporters, we will expose the fraud to everyone," said Ahmed Salem, a Nagaa Hammadi university student working for Muslim Brotherhood candidate Mohamed Morsy's campaign.
During the rally organized by Freedom Party MP Sheiny, Fathy Sand, a Shafiq supporter, said his candidate will succeed if voter turnout is high.
"We are asking people here to go to the polls. If you have a low turnout then this is going to serve the Brotherhood. We want all Egyptians to go and give their opinions, and the judge in the end is the [ballot] box."