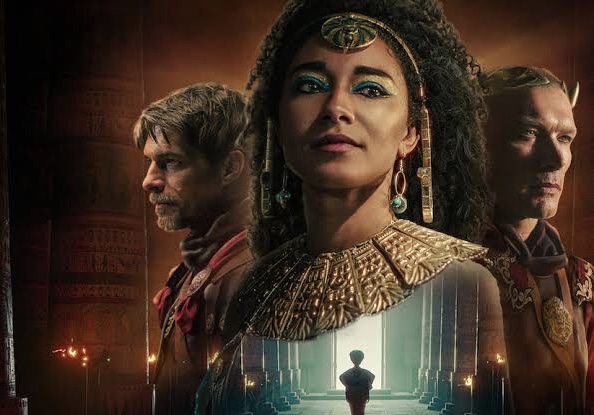 The director of the "Queen Cleopatra" documentary Tina Gharavi has responded to the backlash and outrage her film has caused, directing addressing Egypt's discontent.

"Queen Cleopatra" premiered on Netflix on May 11.  It depicts Pharaonic Queen of Egypt as a black-skinned woman, which led to outraged accusations of 'falsifying history'.

In an interview that Gharavi conducted with Variety magazine, she confirmed that she was faced with violent outrage after choosing black actress Adele James to play the character of Cleopatra in the series.
Most of the worst reactions were from Egyptians, which she questioned as they themselves are Africans.
"While shooting, I became the target of a huge online hate campaign. Egyptians accused me of 'blackwashing' and 'stealing' their history. Some threatened to ruin my career — which I wanted to tell them was laughable. I was ruining it very well for myself, thank you very much!"
In response to these accusations, Gharavi explained that the industry has been working to correct the course of "whitewashing" attempts and give current and future generations a more diverse image of history.
Most importantly, she wished to urge them to have a conversation with themselves about  white supremacy that Hollywood has pushed for years.
"We need to liberate our imaginations, and boldly create a world in which we can explore our historical figures without fearing the complexity that comes with their depiction. I am proud to stand with "Queen Cleopatra" — a re-imagined Cleopatra — and with the team that made this. We re-imagined a world over 2,000 years ago where once there was an exceptional woman who ruled."
Cleopatra's lineage has been the subject of heated speculation throughout history. Some historians have attributed it to the Greeks, while others attributed it to the Macedonians, and others to the Persians.
But – according to Gharavi – Cleopatra was eight generations away from the ancestors of the Ptolemies, and that her Greek-Macedonian family intermarried with the Seleucid dynasty in Western Asia and remained in Egypt for 300 years, and this means that she is Egyptian with diverse origins and that the chance of her being completely white is inconceivable.
Although she is not certain Cleopatra was black, Gharavi said: "It was important to get things right, but also to find a way of telling the story with humanism and nuance: The last thing we needed was another Cleopatra divorced from her womanhood and her power only sexualized. The HBO series "Rome" portrayed one of the most intelligent, sophisticated and powerful women in the world as a sleazy, dissipated drug addict, yet Egypt didn't seem to mind. Where was the outrage then? But portraying her as Black? Well."
'They are stealing my culture'!
Egyptian satirist and journalist Bassem Youssef slammed Netflix's "Queen Cleopatra", calling it a falsification of history after it released the special trailer for the documentary series which revolves around the Queen Cleopatra VII, the last
Youssef Tweeted: "People from West Africa and other nationalities agree with the point of view that I put forward. It is very important when we defend our point of view or our history that we do this with politeness and respect for other civilizations."
"It is never true that while we defend our history we insult or underestimate other ethnicities or civilizations, that is why I insisted that I speak with respect about the civilizations of West Africa, because these people are not our enemies and they will respect us when we respect their history."
Critically panned
Netflix's "Queen Cleopatra" documentary has received the worst audience rating ever in TV show history on Rotten Tomatoes, according to a Forbes report.
The series got a one percent audience approval rate due to the great turnout of Egyptians to express their anger at its falsification of history, Forbes reported.
The Netflix film about the story of Cleopatra made her appear dark-skinned as if her origins were African and not Macedonian.