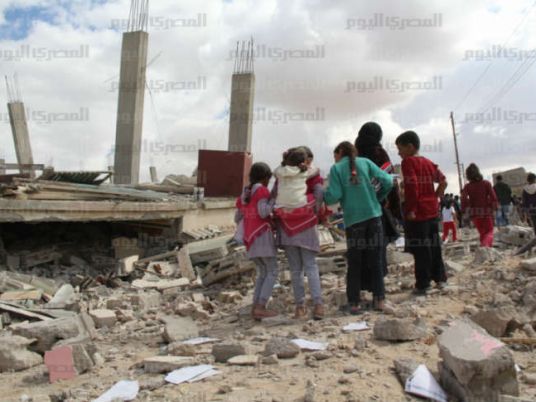 Egypt will double to one kilometre (0.62 mile) the depth of a security buffer zone it is clearing on its border with the Gaza Strip after some of the worst anti-state violence since President Mohamed Mursi was overthrown last year.
Egypt declared a state of emergency in the border area after at least 33 security personnel were killed last month in two attacks in the Sinai Peninsula, a remote but strategic region bordering Israel, Gaza and the Suez Canal.
It also accelerated plans to create a 500-metre deep buffer strip along the border by clearing houses and trees and destroying subterranean tunnels it says are used to smuggle arms from Gaza to militants in Sinai.
"A decision was taken to increase the buffer zone along the border in Rafah to one kilometre. The decision … came after the discovery of underground tunnels with a total length of 800 to 1,000 metres," the state MENA news agency said.
Residents of Sinai, who complain they have long been neglected by the state, say they rely on smuggling trade through the tunnels for their living and the creation of the buffer zone has stoked resentment. Egyptian authorities see them as a threat and regularly destroy them.
Militant violence in Sinai has surged since the army ousted Mursi, a Brotherhood official in July 2013. Egypt has launched a crackdown on the group, jailing thousands of its members and labeling it a terrorist organisation.
The Brotherhood says it is peaceful and condemned last month's attacks.
But Ansar Bayt al-Maqdis, a militant group that has sworn allegiance to Islamic State, has stepped up attacks on police and soldiers in Sinai and released a video this month in which it purported to claim that it was behind the Oct. 24 attack. (Reporting by Mahmoud Mourad, editing by Lin Noueihed)