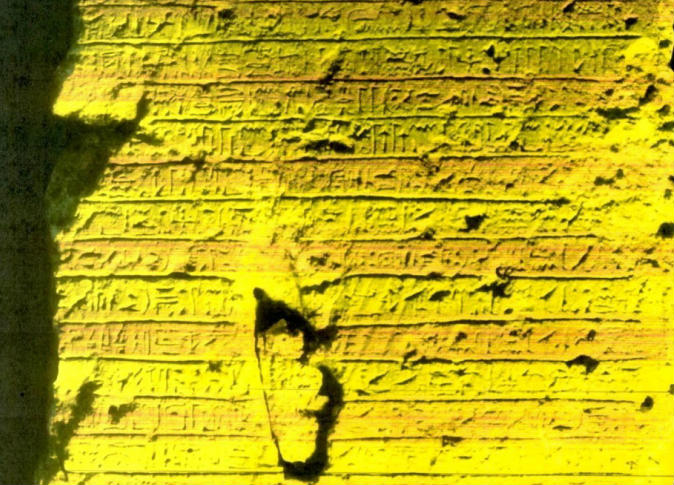 The Supreme Council of Antiquities and the Catolica Santo Domingo University's joint excavation mission has found a limestone relief in the Taposiris Magna area on the northern coast of Egypt bearing the same hieroglyphic and Demotic inscriptions of the Rosetta Stone.
Antiquities Minister Mamdouh al-Damaty said on Wednesday that the relief shows 20 hieroglyphic lines containing cartouches of King Ptolemy V, who ordered this inscription in the seventh year of his reign, his wife and sister, Queen Cleopatra I, his father, King Ptolemy IV, and his wife, Arsinoe III.
He also said there are five Demotic lines at the bottom of the relief that translate the hieroglyphic inscriptions.
The relief is 105 cm high, 65 cm wide and 18 cm thick.
He said the importance of this relief is due to the fact that it bears the same inscriptions of the Rosetta Stone that were engraved two years later in the ninth year of the reign of King Ptolemy V.
He also said the relief is a replica of the Philae Temple plate in Aswan, which was inscribed in the same year and recounted how the king granted land in Nuba to the high priests of the goddess Isis.
Kathleen Martinez, who is head of the excavation, has been working for six years at the Taposiris Magna site in which many important discoveries have been made, including tombs of nobles and senior officials, statues of the goddess Isis and bronze coins of Queen Cleopatra.
Edited translation from Al-Masry Al-Youm