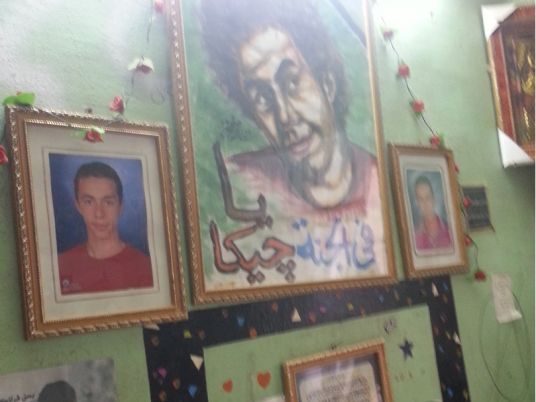 A small modest building in Abdeen in downtown Cairo is coated with photos of 16-year-old Gaber Salah, also known as "Jika," the martyr of the one-year anniversary of the Mohamed Mahmoud clashes.
One year ago, on the anniversary of the 2011 street clashes at Mohamed Mahmoud street protesters gathered to commemorate, but tragedy struck again when deadly clashes erupted between protesters and the police, resulting in dozens shot dead. Jika was among those killed that day.
On the first floor of the building, lies a simple apartment where Jika's father, known as Amm Salah, and Jika's mother, both in their 50s, reside, surrounded by photos of Jika, as well as medals adorning the house, honoring the martyr's family. Jika's parents were kind enough to share their son's story with Egypt Independent.
"May god has mercy on all the martyrs who made a perfect peaceful revolution and scarified their own lives for the sake of this country, and I would like to reassure their souls because the country will be better," said Amm Salah with a soft voice, carrying deep sorrow.
With a strong face beaming with patience, Amm Salah emphasized that although there was willful ignorance during the ousted president Mohamed Hosni Mubarak, Egypt still has the dignity and freedom to overcome it.
Jika, the young revolutionist, had joined all the marches and protests since the mass sit-in on Tahrir Square on 25 January. He took to Mohammed Mahmoud Street on New Year's Eve to protest against the Interior Ministry and Muslim Brotherhood.
The young protester headed off to Mohammed Mahmoud along with his friends to commemorate the 2011's battle anniversary, he wrote a post on the Facebook saying, "I am going to the street of freedom eyes and I feel that I might not return home again, if it happened never let my 'rights' go."
The following day, Jika was on his way to Khedwi Ismail High School, when one friend told him that two other friends had been killed. Jika hurried to Youssef El-gendi Street Downtown where the battle was, and was shot dead by one of the police officer's snipers.
"Jika was shot dead by seven bullets in his head, arms, neck and chest," said Jika's mother as her tears fell from her eyes, hiding behind the frames of her glasses.
Jika's mother continued trying to hold her tears. "On that day Jika kissed my head before going to the school. It was strange because I am the one who used to kiss him."
Jika was helpful and kind; when he found any old woman in the street carrying loads of bags he was rushing to help, Jika's mother noted.
"On that day Jika's mother and I had a very terrible dream. We phoned Jika more than 17 times and he never answered. We hurried to the street with our hearts outpouring and people there told us that he was shot dead and transferred to Kasr Al-Ainy hospital," said Amm Salah.
Jika's family found him clinically dead, hooked up to life support for almost five days hopefully to recover. He was pronounced dead on 26 November.
Amm Salah pointed that any new leader would have no choice except "justice" because if it would not take place the chaos would never come to an end and the "Egypt's revolution will continue."
Amm Salah believes that Egyptian youth are too free-willed to be slaves to any camp, either the military or the Islamist movements.
"The 30 June revolt was a great thing to overthrow the MB rule, and now we are going through a normal transitional period," said Ahmed Mohammed one of Jika's friends.
Commenting on some people's concerns that the military could take over the authority again, Mohammed added, "If there were a new military regime in Egypt, we would never accept."
Three friends of Jika visited the house, donning t-shirts of martyr's portraits. Their lips curled down into frowns and eyes weakened as they remembered their fallen friend Jika. One was so overtaken with sadness, he could not be summoned to speak to our newspaper.
When Amm Salah asked if there are any track changes in the state institutions, he emphasized that any changes do not take place in one or two years, it takes time but the revolution is the starting point of any changes in Egypt.
"We still are living in the country of the 'elders' and although the youth represent than 80 percent of the total population, they don't have the opportunity to have any authority in the new government, and all the positions are filled with old officials," Amm Salah noted.
People have lost confidence in Egyptian justice system, Amm Salah says, and though he trusts the Egyptian judiciary, the investigation bodies are "distrustful" because they belong to the Interior Ministry.
"I see that it is a good thing that the Interior Ministry has released a statement to commemorate Mohammed Mahmoud martyrs, but we need them to complete their courtesy and punish those who killed the victims," sighed Amm Salah.
The Interior Ministry has offered its condolences to those who died, adding it holds the utmost respect for them, according to a statement released on Sunday.
Amm Salah fiercely condemned what he called by the "carnival of people" involved in killing protesters, who were recently set free by the courts. "It seems like some extraterrestrials must have landed and killed our sons," Amm Salah added sarcastically.
"When my son have been killed, I charged the Muslim Brotherhood and the Interior Ministry because they conspired together to kill the protesters," said Amm Salah.
Amm Salah emphasized that Jika has received many threats on the phone and internet to keep away and stop attacking the Brotherhood. Jika was the admin a the Facebook page called "Against MB."
Jika's mother argued with him to take down the photos of 2011 Mohammed Mahmoud martyrs he was hanging on the walls of his room, but the 16-year-old stuck to his guns. Jika, she says, was courageous and refused to give up.
"I hope not to need to another revolution and lose another martyrs," Jika's father said.