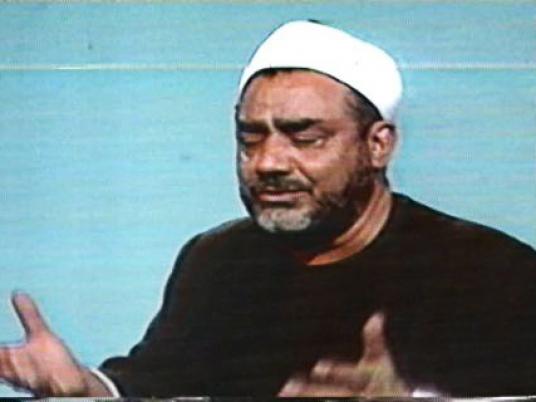 For decades, Egyptians listened on the radio during the holy month of Ramadan to the beautiful voice of Sheikh Sayed Mohamed al-Naqshabandi as he recited prayers every evening before they broke their fast. The late munshid, one of the most famous in the history of religious chanting, had a unique voice with eight different levels. Thirty-six years after his death, his prayers and chants remain an emblem of spirituality.
Naqshabandi was born in the village of Demira in Daqahlia Governorate in 1920, and started learning the art of inshad in zikr (remembrance of God) circles at the age of 8, after moving with his family to the Upper Egyptian town of Tahta. For years, he followed the chanters in moulids, learning from them and gradually adding in his own chants in praise of God, Prophet Mohamed and members of his family. But it was not until 1955 that the munshid rose to fame and was invited to perform all over Egypt and the Muslim world — from Syria, Abu Dhabi and Iran to Morocco and Indonesia.
In 1966, he met with famous radio host Ahmed Farag at Al-Hussein Mosque in Cairo, and they agreed to record a few episodes for Farag's show, "Fi Rehab Allah" (In the Company of God). Later, Naqshabandi also recorded religious prayers for the daily radio show "Doaa" (Prayer), broadcasted after the maghreb prayers. Listeners loved his voice and the sincerity it evoked. And when he moved to television shows, he was also closely followed by fans. He appeared in TV shows such as "In the Light of the Names of God" and "The Searcher for the Truth," which told the story of Prophet Mohamed's companion Salman al-Farisy. Many of Naqshabandi's prayers and recitals were composed by music icons such as Sayed Mikkawy, Baleegh Hamdy, Mahmoud al-Sherif and Helmy Amin.
Naqshabandi died of a heart attack in 1976 and left his fans more than 40 chants, including the famous "Gal Al Elaah" (Oh, Praise God) and "Ya Rab" (Oh God), as well as numerous recordings of him reciting the Quran. He was commemorated with honorary awards after his death by both late President Anwar Sadat in 1979, and toppled President Hosni Mubarak in 1989. And the city of Tanta, where he lived for many years and is currently buried, named one of its main streets after the late munshid.
This piece was originally published in Egypt Independent's weekly print edition.
Correction: The photograph published with this article has been changed on 5 August as it mistakenly showed Sheikh Noubar instead of Sheikh Naqshabandi.