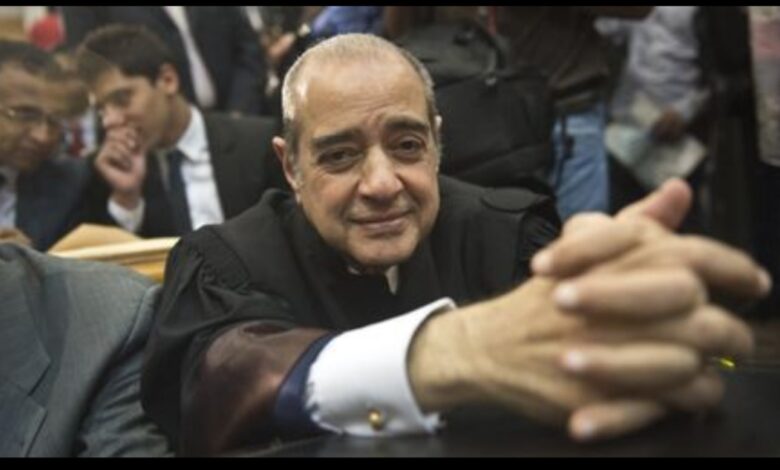 Renowned Egyptian lawyer Farid al-Deeb said that he didn't withdraw from his defence for the Mohamed Adel, 22, the murderer of Mansoura University student Naira Ashraf.
Deeb told Al-Masry Al-Youm that: "This (speculations on his withdrawal) is completely untrue, and what was published is false, and I hope that rumor mongers stop spreading lies.
"I am working on the memorandum of cassation against the ruling, and I am close to completing it, and I have not withdrawn from defending (Adel)," he stressed.
Adel killed his colleague at Faculty of Arts, Ashraf, at Mansoura University gate in broad daylight before  the end-of-year exam on June 20.
The defendant stabbed her 19 times and slaughtered her while trying to behead her.
The Mansoura Criminal Court on July 6 read its verdict against Adel, after a very short and even historical trial period, he was sentenced to death by hanging.
The court demanded that the legislator allow the death sentences be broadcast live, in order to  deter any future incidents, and to raise fear amongst the people in the country.
Adel had confessed in court to the crime, and was charged with "premeditated murder."
The incident gained public attention after a video clip spread in June, showing Adel stabbing and slaying Ashraf to death, because of her refusal to marry him after he proposed to her.
Two days ago, Public Prosecutor issued a press statement, in which he stated that three nurses were detained for four days pending investigation, accusing them of videotaping the body of the victim, and posting the video on social media.
The suspects were arrested after interrogation of all those who were working in the emergency department at the Mansoura General Hospital on the day of the murder, Monday, June 20.
The statement continued: "During the investigations, the first suspect confessed to the accusations against her, explaining that she videotaped the victim's body after arriving at the hospital during the examination, with the aim of showing the imaging to the surgeon, then two of her colleagues asked to have the videotape, so she sent it to them, and they are the other two suspects in the incident. During their interrogation, one of them admitted to the accusations against her and explained that she kept the videotape on her phone after she obtained it from the first accused until the day before her arrest, and then deleted it for fear of being questioned by law."
The statement continued: "Police investigations concluded that the three suspects videotaped the body of the victim in the hospital, and published the photos on social media, taking advantage of the media momentum surrounding the incident, which caused a disturbance of public security and peace in an attempt to mobilize high rates to watch the videotape."