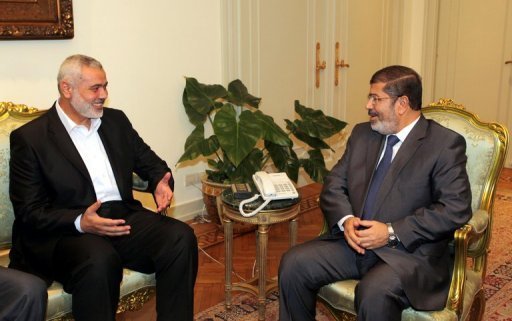 Cairo has agreed to open an office representing the Palestinian faction Hamas, an Egyptian source told the London-based newspaper Al-Hayat, saying that both sides agreed to locate the office in the Fifth Settlement.
The source, who asked not to be named, said Egyptian approval came after discussions between Egyptian intelligence officials and Hamas leaders.
As a result of the discussions, a joint security panel has also been formed to manage border between Egypt and the Gaza Strip, the source said.
The source added that the security panel would comprise officials from the Egyptian secret service, along with Hamas leaders Ahmed al-Jabari, Moussa Abu Marzouq, Bassen Naeem, and Ayman Taha.
The same source revealed that the Palestinian side had provided Egyptian officials with important information about the perpetrators behind the attack on an Egyptian military checkpoint in Rafah on 5 August, which left 16 Egyptian officers dead. Hamas also pledged to hand over a number of individuals placed on Egypt's list of wanted criminals.
Al-Hayat said Hamas's Prime Minister Ismail Haniyeh would arrive in Cairo Thursday and would meet with his Egyptian counterpart, Hesham Qandil, and other officials Friday.