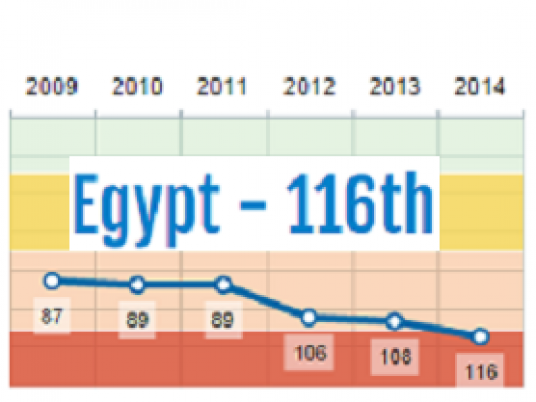 Egypt ranks as one of the world's least prosperous countries in 2014 according to an annual global prosperity survey released this week.
The report released by UK-based Legatum Institute, a research organization that documents annual prosperity indicators around the world, listed Egypt as the 116th out of 142 countries surveyed, having fallen eight places since last year.
Egypt's ranking comes between Cameroon (115th) and Tanzania (117th), while Norway comes on top of the list as the most prosperous country in the world followed by Switzerland and New Zealand. The Central African Republic comes at the end of the list as the world's least prosperous country.
Egypt's best performance is in the health sub-index, where it ranks 85th in 2014, while the country's lowest rank is in the personal freedom sub-index, where it ranks 141st.
Egypt was also one of the Middle East's poorest nations beaten only by so-called failed states or countries suffering from civil wars like Iraq (128th), Syria (129th) and Yemen (138th), the report said.