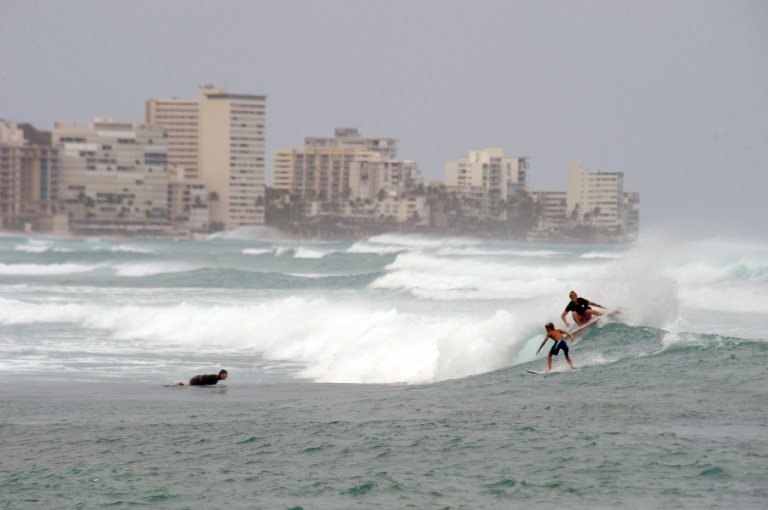 Torrential rain pounded Hawaii on Friday as Hurricane Lane, now downgraded to a tropical storm, crawled toward the island state, triggering landslides and "catastrophic" flooding, and forcing thousands to seek emergency shelter.
Lane, which was reclassified as a Tropical Storm at 0300 GMT Saturday, was located around 120 miles (190 kilometers) south of the capital Honolulu, slowly moving in a north-northeastward direction at just three miles per hour.
Lane "weakens to a Tropical Storm south of Oahu, but rain bands will still bring more flooding and damaging winds to parts of the main Hawaiian islands," the Central Pacific Hurricane Center said.
Lane, which packed still dangerous winds of 70 miles per hour, is forecast on Saturday to turn westward and away from the Pacific islands.
"Regardless of the hurricane track, life-threatening impacts will extend far beyond the center position as Lane approaches the islands," the National Weather Center said.
"Excessive rainfall associated with this slow moving hurricane will continue to impact the Hawaiian Islands into the weekend, leading to catastrophic and life-threatening flash flooding and landslides."
Brad Kieserman with the American Red Cross told reporters more than 2,000 people were sheltering in 45 evacuation centers.
"I would not be surprised to wake up tomorrow morning and see evacuation center populations at or above 2,500 or 3,000," he added.
Almost 25 inches (60 centimeters) of rain fell on the iconic Waikiki Beach in the last 36 hours, forcing its closure as hoteliers and store owners piled sandbags outside their businesses.
The mainly-rural Big Island — home to the still-erupting Kilauea Volcano — has taken the worst hit so far, with more than 30 inches of rain in about 24 hours.
Experts warned of "whiteout conditions" — steam loaded with particles and toxic gases produced when cool moisture hits lava — as the storm passes.
Lane however should have little effect on the eruption "aside from minor rockfalls at the summit and increased steaming" from two vents, the US Geological Survey said.
However "whiteout conditions could occur… due to steam produced by heavy rain falling on still-hot lava flows."
Federal Emergency Management Agency (FEMA) chief Brock Long warned of major power grid disruptions.
"We need to set the expectation that the power could go off for quite some time and the infrastructure is going to be heavily impacted," Long said.
Residents across the state have been stocking up on water, food, gasoline and emergency supplies as Lane drew nearer.
'Destructive waves'
Sea levels were expected to rise as much as two to four feet (60 to 122 centimeters) above normal tide levels, causing coastal erosion and prompting a storm surge and "large and destructive waves," forecasters said.
United, Alaska and Hawaiian Airlines have canceled some or all international and domestic flights.
The US Coast Guard says 57,000 US military personnel stationed in Hawaii are ready to offer medical support and conduct search and rescue operations.
"I've not seen such dramatic changes in the forecast track as I've seen with this storm," Governor David Ige said in a statement as he declared a state of emergency earlier this week on the Big Island.
President Donald Trump called Ige, the White House said, to offer support and discuss preparedness and emergency measures.
The last major storm to strike Hawaii was nearly three decades ago, when Hurricane Iniki hit the island of Kauai, leaving six dead and causing billions of dollars in damage.
Federal officials have been working with Hawaiian utility managers to monitor the power grid, a major vulnerability in Puerto Rico last year when it was hit by Hurricane Maria, a powerful Category Four hurricane.
Hurricane-related deaths in Puerto Rico have been estimated at as many as 4,600 people, largely because prolonged and widespread power outages and washed out roads prevented access to health care, US researchers said.