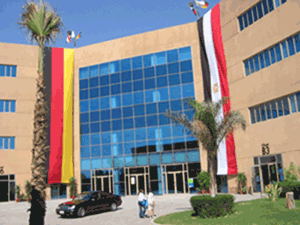 A number of revolutionary forces in Egypt called for a protest in a statement Thursday, to be held Friday outside the Journalists Syndicate in solidarity with students from the German University in Cairo (GUC) who have been staging an open-ended strike since the expulsion of their colleagues that protested military rule.
The statement described the student's expulsion as arbitrary and intolerable.
The expelled students participated in memorial protest for Karim Khouzam, a first-year management student slain in the Port Said stadium violence, during which they chanted against military rule and university officials with ties to former President Hosni Mubarak's regime.
Among the forces that signed the statement were the 25 January Revolution Youth Coalition, the Youth for the Freedom and Justice Movement, the Socialist People's Alliance Party, the Kefaya Movement, the Revolutionary Socialists and the Free Front for Peaceful Change.
"Attempts to hijack the revolution have become clear to all now, and the repetition of the same policies of the former regime has become apparent, including violations against the revolution and the revolutionaries, from military trials of civilians to bloody massacres…and to what is happening to students — arbitrary expulsions due to their positions on the revolution," read the statement.
The revolutionary forces called for returning expelled students to the university, sacking member of GUC's board of trustees and the head of the disciplinary committee that decided to expel the students, Ibrahim al-Demairy, and establishing a memorial for Khouzam.
The statement also called for removing leaders who had relations with the former regime and the now-disbanded National Democratic Party, as well as the participation of students in drafting student union regulations.