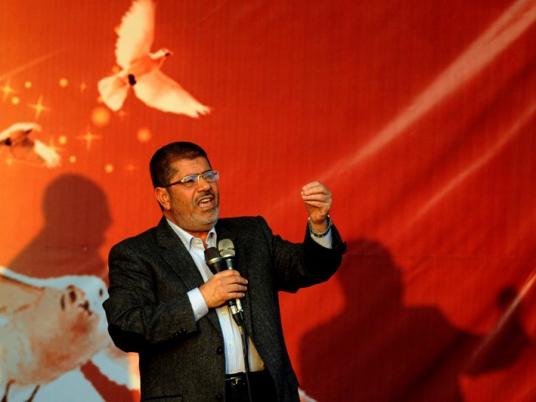 Investigators have considered 24 cases against reporters and authors for defaming President Mohamed Morsy since his election last June, a human rights organization said, compared to 14 cases over the previous 115 years. on Sunday.
A report by the Arab Network for Human Rights Information, "The Crime of Insulting the President: A Crime of an Authoritarian Regime," compared Morsy's 200 days in office to the reigns of Egypt's rulers since the end of the 19th century until former President Hosni Mubarak, suggesting that Morsy has reached a record not achieved by any president or monarch in Egyptian history.
Though Morsy have spent a short period in office, the report says, laws concerning defamation of the president have been invoked with great frequency.
King Farouk, Egypt's last monarch who ruled for 16 years, came second with seven cases involving charges of insulting the king. Hosni Mubarak came third with four cases that involved six defendants throughout his 30-year rule. Khedive Abbas Helmy II came fourth with three lawsuits and six defendants during his 22 years on the throne.
Poet Mounir Saeed Hanna was hit with the most severe sentence related to defamation of a leader in 2009. Hanna was sentenced to three years but was later acquitted after his appeal was accepted. Bishoy Kameel Kamel, another citizen, is spending six years in prison, two of which are for defaming the president while the other four are for charges of blasphemy and libeling another citizen.