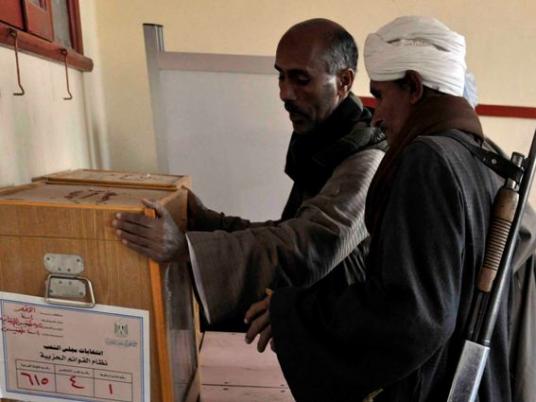 Egyptians have taken an average of five minutes to vote in the parliamentary elections that began yesterday, according to a report by an Egyptian rights organization.
The report, issued on Tuesday by the One World Foundation, said turnout decreased considerably Monday starting at 5:30 pm, with voting practically coming to a stop at 7 pm in Luxor, Alexandria, Assiut, Kafr al-Sheikh, Port Said and Cairo governorates.
In Assiut, the foundation said a citizen named Mohamed Ahmed Abdel Hafez voted at Al-Nil Preparatory School at 7:35 pm without showing his national ID card. The same voter did not dip his finger in phosphoric ink after casting his vote.
Judges at most polling stations in Cairo, Alexandria, Port Said, Kafr al-Sheikh, Luxor and Assiut kept the ballot boxes in the principals' rooms after sealing them with wax. The boxes were then handed over to the armed forces, the report said.
The report also said that arguments between supporters of different candidates continued in all governorates until the end of the day.
Most polling stations observed by the foundation closed their doors to voters half an hour to two hours before 9 pm, the designated time for polls to close, the report added.
Polling station 783 at Khaled Ibn al-Waleed School in Helwan did not open at all. The amount of ballots was also insufficient at some polling stations, the report said.
The report also said gunfire was heard outside a school in Hamoul region in Kafr al-Sheikh, prompting army forces to close surrounding streets and the school and to search everyone in the school for weapons.
The judges let the armed forces guard ballot boxes after sealing them. In a few cases, police were asked to guard boxes.
In Luxor, some judges guarded boxes themselves.
The judge at Tawd School in Luxor closed that polling station at 7:10 pm.
The report also said that judges in Alexandria asked army officers to monitor the polling station while they were using the toilet.
In Alexandria, judges were not officially notified that voting was extended until 9 pm, causing some of them to close stations at 7 or 7:30 pm. Several voters also complained about low lighting at several schools, the report said.
Youth from the Nour Party provided meals to polling station workers, voters and army forces at one polling station in Agamy, Alexandria. Others from the Egyptian Bloc electoral list distributed blankets and meals to voters in Boulaq Abul Ela in Cairo.
Judges at polling stations 220 and 229 in Assiut had to reopen their doors to voters at 8:45 pm after voters insisted on not waiting until the next day. The judge shoved their ballots into the box through an opening on the side after it had already been sealed.
Several voters were reportedly allowed in the voting room at the same time in some governorates, such as Al-Walideyah School in Assiut.
Some voters found their ballot papers already marked at polling station 107 at Al-Nasr School in Assiut.
Translated from the Arabic Edition