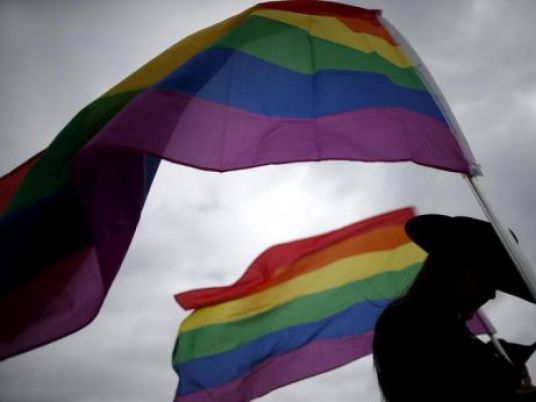 Rights activist groups on Monday condemned the crackdown of the Interior Ministry against the LGBT community, after several young people were arrested for holding up rainbow flags during a concert featuring Lebanese Indie rock band Mashrou Leila last month.
In a statement on Monday, rights groups called on the government to stop persecution of individuals in the gay community and to release those who were arrested, going on to warn against any physical violations inside police or prosecution offices, including forced anal examinations, which can constitute as a form of torture.
Forced anal examinations reportedly involve a doctor inserting a finger or object into the anus of the accused as to form a conclusion about their alleged sexual orientation.
The signatory rights groups on the statement were: Arab Network for Human Rights Information (ANHRI), The Egyptian Initiative for Personal Rights (EIPR), Association for Freedom of Thought and Expression (AFTE), Cairo Institute for Human Rights Studies (CIHRS), Al Nadeem Center for Rehabilitation of Victims of Violence, Hisham Mubarak Law Center, Egyptian Commission for Rights and Freedoms (ECRF), and Nazra for Feminist Studies.
The organizations said in yesterday's statement that the authorities have no right to intervene in the private life of citizens, unless they engage in violence or inappropriate behavior with minors or with people without their consent.
"While the state pursues dozens of homosexuals using loosely legal provisions, to punish them without committing crimes, the criminal justice system does not make the same effort, to prosecute cases of circumcision, disclosure of marriage to minors or domestic violence," the statement said.
The groups denounced "agitating the various media against homosexuals and portraying them as a threat to society."
The statement noted that police arrested 57 people after the Mashrou Leila concert, and sentenced 10 of them to six years in prison after being convicted of "debauchery".
"These arrests represent a serious violation to the rights of the privacy of citizens, their sexual orientation, their identity and their private practices are their own affairs that the state has nothing to do with it," the statement said.
Edited Translation from Al-Masry Al-Youm