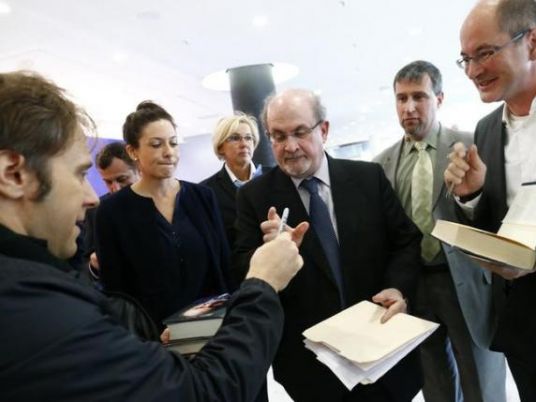 Violence against writers and a misplaced sense of political correctness pose new dangers to freedom of speech in the West, writer Salman Rushdie said on Tuesday.
Rushdie, the subject of an Iranian death threat in 1989 for his book "The Satanic Verses", which was deemed blasphemous by many Muslims, said he had not expected freedom of expression to come under attack again to this extent in the western world.
"It seems to me the battle for free expression was won 100 years ago," the 68-year-old told an audience at the opening of the Frankfurt Book Fair, under heavy security.
"The fact that we have to go on fighting this battle is the result of a number of regrettable, more recent phenomena."
After Islamist gunmen killed 12 people in January in an attack at the office of French satirical weekly Charlie Hebdo, which had mocked religions including Islam, Rushdie defended the murdered cartoonists.
He still faces criticism from his religious opponents: the Iranian Ministry of Culture canceled its national stand at this year's book fair because of Rushdie's appearance, and Saudi Arabia protested against a new Czech translation of "The Satanic Verses" only last week.
Rushdie criticized restraints on freedom of expression at universities, referring to recent examples in Britain and the United States. "The idea that students should not be intellectually challenged at universities is exactly what we should fight," he said.
The British Indian novelist, who went into hiding for years after the 1989 edict by Iranian leader Ayatollah Ruhollah Khomeini ordering Muslims to kill him, has resumed public appearances in recent years and was in Frankfurt promoting his new book.
"Two Years, Eight Months and Twenty-Eight Nights", a reference to the 1,001 nights of the famous Arabic tales, is described as a novel exploring the complexity of the world by weaving together history, mythology and love.
Rushdie told his audience that all people around the world could relate to stories, so limiting freedom of expression was not just censorship but an assault on human nature.
"It prevents us from being the kind of creatures that we are. It is not something which is specific to one culture. It is something universal to human beings," he said.