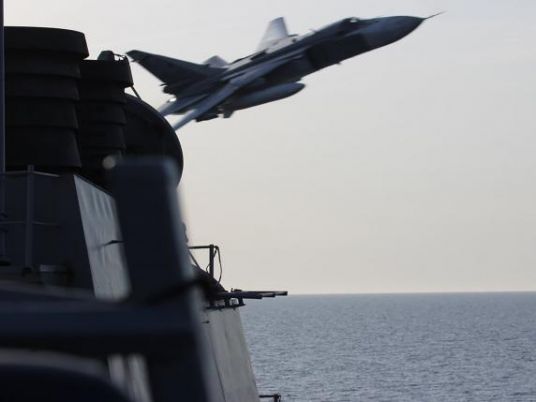 Russia's military rejected criticism by US European Command on Sunday that a Russian jet had made aggressive maneuvers near a US reconnaissance plane over the Baltic Sea, a second incident in the region between the Cold War-era foes in the past week.
Under President Vladimir Putin, Russia's military has been beefed up by increased spending and ambitious rearmament, while Moscow, which accuses NATO of expanding toward Russia's borders, tries to pursue a more assertive foreign policy.
The latest incident occurred on Thursday as a Russian Su-27 fighter "performed erratic and aggressive maneuvers", flying within 50 feet of a US RC-135 aircraft, US European Command spokesman Danny Hernandez said, replying to a question from CNN.
The United States had protested to Moscow, Hernandez said. "The unsafe and unprofessional actions of a single pilot have the potential to unnecessarily escalate tensions between countries," he said.
Russia dismissed the report as "running counter to reality", saying its air defenses had to scramble a fighter jet after detecting a high-speed unidentified target over the Baltic Sea heading for its borders.
After making "visual contact" with the Russian Su-27, the American reconnaissance plane changed its course away from Russia's borders, defense ministry spokesman Igor Konashenkov said in a statement.
The flight of the Russian warplane was in "strict conformity with international laws … and there were no emergency situations," he said.
That incident occurred just two days after two Russian Su-24 bombers buzzed the Donald Cook, a US guided missile destroyer, in the Baltic Sea on Tuesday, simulating attack passes, with a US military official describing them as one of the most aggressive interactions in recent memory.
US Secretary of State John Kerry condemned as dangerous and provocative the military encounter in the Baltic Sea.