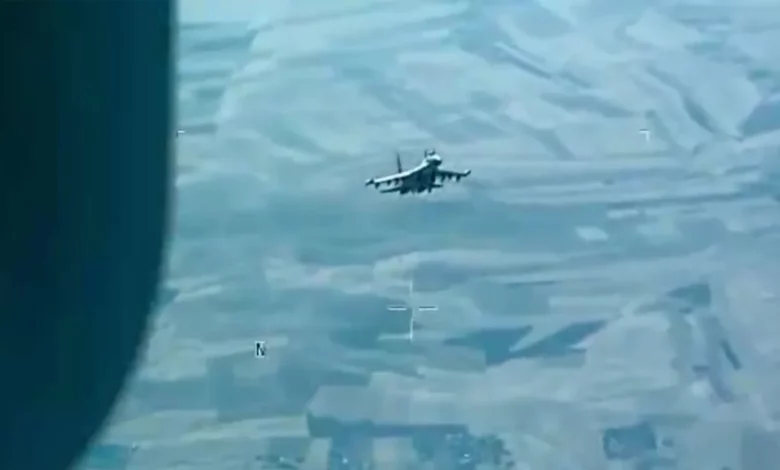 CNN
 —  A Russian fighter jet flew "dangerously close" to a US drone
over Syria
and damaged it with flares, according to the US Air Force, in the latest in a series of incidents between the two militaries in the Middle East.
On Sunday, a Russian jet closed to within a few meters of a US MQ-9 Reaper drone that was taking part in an anti-ISIS mission over Syria. The Sukhoi Su-35 began dropping flares in front of the US drone, severely damaging its propellor, the Air Force said. The drone's crew was able to control the aircraft and fly it back to its home base.
"The Russian fighter's blatant disregard for flight safety detracts from our mission to ensure the enduring defeat of ISIS," said the commander of Air Force Central Command, Lt. Gen. Alex Grynkewich.
Video of the encounter from the US drone shows a Russian fighter jet drawing closer as it approaches from behind. The video then shows the jet dropping flares near the drone.
In a similar encounter over the Black Sea in March, a Russian Su-27 fighter jet struck the same type of US drone, damaging its propellor and forcing it down in the water.
Encounters between Russian fighter jets and US drones operating over Syria have become increasingly common. The two militaries both operate in the country, but for different purposes: the US military is part of the ongoing campaign to defeat ISIS, while the Russian military supports Syria's Assad regime.
Last week, Chairman of the Joint Chiefs of Staff Gen. Mark Milley said US analysts are examining the potential reasons behind the uptick in aggressive Russian actions. Some of the incidents over Syria have lasted as long as two hours, US officials said.
On Wednesday, July 5th, three Russian fighter jets harassed three US drones flying over Syria. The Russian jets dropped parachute flares in front of the drones, forcing the operators of the unmanned aircraft to take evasive maneuvers. One Russian jet lit its afterburner in front of a US drone.
One day later, another Russian fighter jet began dropping flares in front of a US MQ-9 drone over Syria as it was conducting a mission against ISIS targets. Video of the encounter released by the Air Force showed two Russian jets flying near a US drone when one drops flares in an apparent attempt to hit the drone.
The following day, a Russian fighter jet once again harassed three MQ-9 drones, conducting 18 close passes and forcing the drones to react to avoid unsafe situations. Following the incident, the drones carried out a strike against a senior ISIS leader.
And on July 14, a senior US defense official said another Russian fighter jet flew near an MQ-9 Reaper drone over Syria in an unprofessional manner.