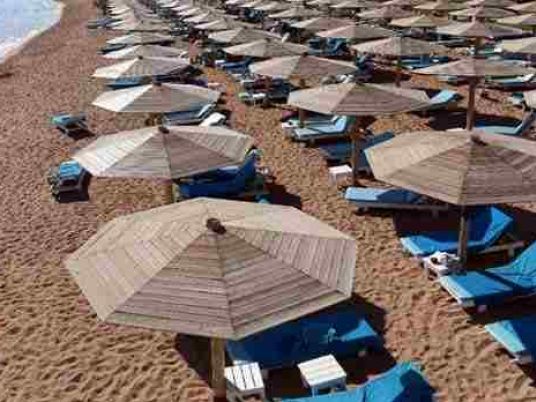 The Russian plane crash in Egypt has forced Sharm el-Sheikh hotels to send dozens of staff on "unpaid leave" as tourist numbers dwindle, with tens of thousands of jobs at risk within months.
The October 31 crash over the Sinai Peninsula that killed all 224 people on board prompted Russia and Britain to repatriate their nationals holidaying in the Red Sea resort.
Tourist arrivals declined further as Russia halted normal flights to Egypt, and Britain restricted travel to Sharm el-Sheikh on mounting suspicions that the plane was downed by a bomb on board.
The Egyptian affiliate of the jihadist Islamic State group claimed it brought down the Saint Petersburg-bound flight, minutes after taking off from Sharm el-Sheikh.
Two weeks after the crash, the travel restrictions have hit hard, with resort operators in Sharm el-Sheikh cutting staff to reduce costs.
"I have been told not to come from tomorrow," said Ahmed, an employee of a luxury hotel, who gave only his first name.
"I'll be called if the situation improves. Nothing is clear."
Ahmed, who is originally from Upper Egypt, said five other employees of his hotel were also told to go on unpaid leave.
At least four luxury hotels confirmed to AFP they have asked several employees to take leave.
Tourism employs one in nine workers in Egypt, and in Sharm el-Sheikh nearly 80,000 depend on it for their livelihood.
"The way the situation is, about 40,000 people risk losing their jobs within months," Givara El-Gafy, head of the South Sinai chamber of tourism, told AFP.
After years of instability since the 2011 ouster of longtime strongman Hosni Mubarak, and a rising tide of militant attacks that kept visitors away, tourism in Egypt had shown signs of a pick up ahead of Christmas and New Year.
Resort owners were even considering hiring new staff, but not anymore.
"We stopped hiring new staff … and those who want to go can go," said Anwar Hawary, a manager at a five-star hotel.
Blessing in disguise
For a hotel to break even, at least 30 percent of its rooms have to be occupied, experts say. Failing that, many hotels, especially new ones, will have to shut.
In a holiday spot like Sharm el-Sheikh, many foreigners are also employed in resorts and companies catering to tourists.
"Two days back I lost my job," said Oxana, a Russian who worked for an Egyptian perfume company based in Sharm.
"Sixteen of our 20-member sales team have been told to go," she said.
Oxana, 40, said her clients were Russian holidaymakers who stayed in the coastal town for weeks at a time.
With a monthly salary of about $600, Oxana said she lived comfortably in Sharm — a favourite holiday destination for millions attracted by its pristine beaches, sunny weather and diving sites.
"I can live off my savings for two months, but if things don't improve by then, I'll have to return to Moscow," said Oxana, a former rescue diver.
Chances of finding a job in Moscow are also tough due to the economic recession back home, she said. "I prefer working here… the weather is beautiful and Sharm is safe."
For some big resorts, however, the lull in business is an opportunity to renovate their properties.
"This is a blessing in disguise," a general manager of a luxury hotel chain told AFP on condition of anonymity.
"We plan to close two wings of our hotel for renovation, so that when the situation changes, we are ready."