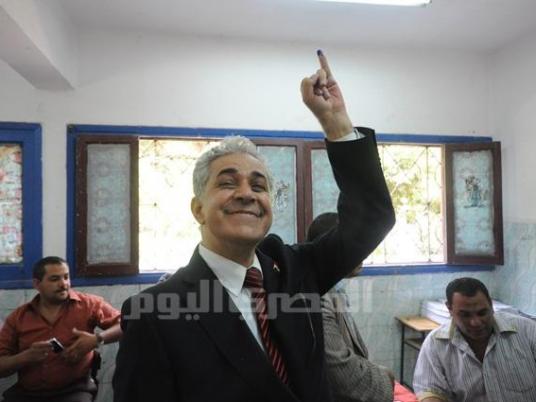 Presidential hopeful Hamdeen Sabbahi has accused his rival's campaign, Abdel Fattah al-Sisi, of bribing citizens to sign endorsements for the former defense minister's candidacy.
Presidential elections are slated for 26 and 27 May. On Saturday, the Presidential Elections Commission said the deadline had passed for accepting nominations, leaving Sabbahi and Sisi as the only eligible candidates.
Each candidate was required to gather 25,000 notarized endorsements across the republic.
Sabbahi, speaking to al-Youm satellite channel on Sunday, wondered "How much Sisi knows about and the level of his involvement in the immoral tactics used in some endorsements?"
He added that his campaign had detected "wide-scale" prepaid arrangements.
Sisi's campaign member and founder of Tamarod movement, Mahmoud Badr, rebuffed the accusations on his facebook page, arguing that such claims "should not come out from people of high standing."
According to Sabbahi, Sisi's victory in the upcoming elections would bolster the Muslim Brotherhood's argument that the removal of Mohamed Morsy in 2013 was a military coup. "I am a partner in the 30 June, but Abdel Fattah al-Sisi's win would surely be in the Brotherhood's favor."
Sabbahi said if he is elected president, "no assaults shall be made against Muslim Brotherhood members if they protest against his rule provided that their protests are not marred with violence."
He assured that he would never tolerate "discrimination against any citizen over his political positions," noting that there had been "a hatred campaign in the media and the public sphere against the Brotherhood."
Edited translation from Al-Masry Al-Youm