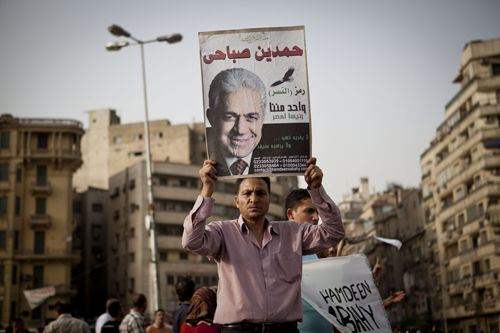 Former presidential candidate and Popular Current founder Hamdeen Sabbahi suggested Thursday that Defense Minister Abdel Fattah al-Sisi is partially responsible for errors committed by transitional authorities that ousted Mohamed Morsy last year.
Sabbahi, who came third in the 2012 presidential race, and is the only outright contender for Sisi in the 2014 race, told satellite channel CBC that "the current authorities have made several errors in relation to security and freedoms, and Field Marshal Abdel Fattah al-Sisi, is the deputy prime minister and surely plays a part in decision-making."
Concerning the upcoming presidential elections, Sabbahi maintained "We will not accept state bias towards a specific candidate."
He said he would practice "real" opposition against Sisi if the latter wins presidency, and that Sisi would be subject to "fair" accountability.
He, however, warned that he would quit the election race should any hurdles be put in face of his campaign, stressing that he has "the ability to impose electoral transparency."
Sabbahi urged proponents of election boycott to lend him support, adding that those who led the revolutions in January 2011 and June 2013 had not come to power.
Edited translation from Al-Masry Al-Youm