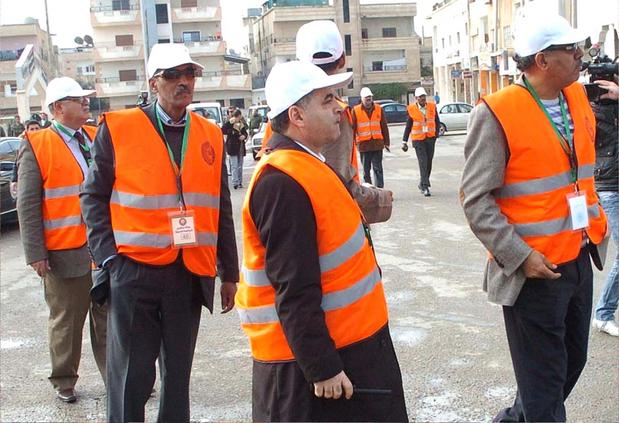 Saudi Arabia said on Sunday it was withdrawing its observers from Syria after an Arab monitoring mission failed to end 10 months of bloodshed, and called on the international community to exert "all possible pressure" on Damascus.
Hundreds of Syrians have been killed since the observers began their work in late December and political opponents of Syrian President Bashar al-Assad are demanding the Arab League refer the crisis to the United Nations Security Council.
Arab League chief Nabil al-Araby recommended to Arab foreign ministers Sunday that a monitoring mission to Syria be extended, expanded and get more technical support.
The Saudi comments suggest, however, that the extension of a mission Syria's opposition has described as toothless will not be enough to satisfy everyone in the 22-member body and exposed a growing rift over the best way to approach the crisis that has shown little sign of easing after months of political pressure.
"My country will withdraw its monitors because the Syrian government did not execute any of the elements of the Arab resolution plan," Prince Saud al-Faisal told Arab foreign ministers at a closed door meeting in Cairo. The statement was obtained by Reuters after he spoke.
"We are calling on the international community to bear its responsibility, and that includes our brothers in Islamic states and our friends in Russia, China, Europe and the United States," Prince Saud said, calling for "all possible pressure" to push Syria to adhere to the Arab peace plan.
Saudi Arabia, the region's political and economic powerhouse, exerts enormous influence over other Gulf countries which tend to fall in line with its policies.
Arab diplomatic sources have said in recent weeks, however, that Bahrain, Kuwait and Oman are increasingly reluctant to step up pressure on Syria when they are facing protests at home.
Qatar, which has led calls for escalation against Syria, said it was time to review the whole mission and consider dispatching Arab peacekeeping troops to quell the violence that United Nations says has killed more than 5,000 people. Syria says 2,000 security personnel have been killed in the violence.
"The reality says that the bloodshed has not stopped and the killing machine is still working and violence is spread everywhere," Qatari Prime Minister Sheikh Hamad bin Jassim al-Thani said in a statement.
"What is needed now is a full review of the work of this mission and a look into what results it achieved and if those results are convincing enough to continue or if the realities call for other options and one other option is …. to send Arab peacekeeping forces."
Qatar and Saudi Arabia, regional rivals of Syria and its ally Iran, are impatient for decisive action against Assad but military action against Assad would need unanimous backing and several states prefer a negotiated solution, league sources say.
The Security Council is also split on how to address the crisis, with Western powers demanding tougher sanctions and a weapons embargo, and Assad's ally Russia preferring to leave the Arabs to negotiate a peaceful outcome.
Suggestions to send in UN experts to support the Arab observers made little headway at the last meeting earlier this month and Damascus has said it would accept an extension of the observer mission but not an expansion in its scope.
Arabs divided
The lack of a unified Arab response will frustrate Syria's opposition which has demanded that Arab countries clearly state Assad's failure to adhere to its peace plan, withdraw monitors and hand the file to the UN Security Council.
Arab states are divided over how to handle the crisis in Syria and critics say the monitoring mission is handing Assad more time to kill opponents of his rule.
But Egypt, Algeria and Tunisia told Araby, they would oppose such a move, a league source said Sunday.
"The three states support solving the Syrian crisis inside the Arab League," the source told Reuters.
Others worry that weakening Assad could tip Syria, with its potent mix of religious and ethnic allegiances, into a deeper conflict that would destabilise the entire region. Some may fear the threat from their own populations if he were toppled.
Funeral procession
Two Syrian army officers, an infantryman, a rebel and two civilians died in clashes Sunday in Talfita, a village in the Damascus region, said the Syrian Observatory for Human Rights.
Intermittent fighting continued in the town of Douma, nine miles northwest of the capital, which had been encircled by the military, said the UK-based rights group.
An opposition activist and a rebel fighter in Douma told Reuters by telephone the fighting had eased and the rebels held about two thirds of its main streets.
Masked fighters had set up checkpoints and a funeral procession for five civilians killed Saturday was passing through the town, they said. Angry cries could be heard in the background as they spoke.
The rebel fighter said there were several casualties on Sunday but no confirmed deaths.
Syrian forces opened fire on a car near the mountainous north Lebanese border town of Wadi Khaled, leading to an exchange of fire between the passengers and the Syrians, a Lebanese security source said. Residents later said they found a Syrian man wounded by landmines placed on border.
Syria, keen to avoid tougher foreign action, has tried to show it is complying with the Arab peace plan, which demanded a halt to killings, a military pullout from the streets, the release of detainees, access for the monitors and the media, and a political dialogue with opposition groups.
This month the Syrian authorities have freed hundreds of detainees, announced an amnesty, struck a cease-fire deal with armed rebels in one town, allowed the Arab observers into some troublespots and admitted some foreign journalists.
Assad also promised political reforms, while vowing iron-fisted treatment of the "terrorists" trying to topple him.