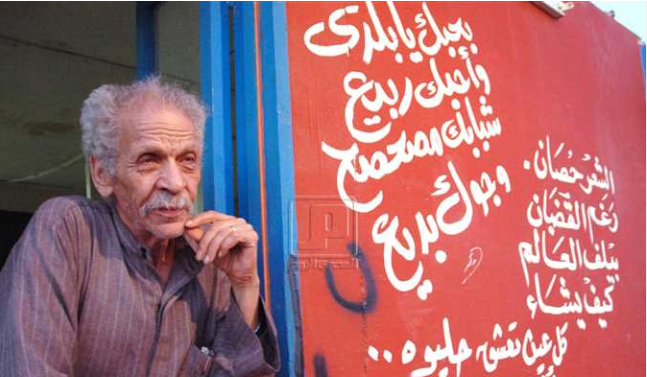 Business tycoon Naguib Sawiris, the founder of the Ahmed Fouad Negm Colloquial Poetry Award, announced that the Sawiris Foundation for Social Development has bought the house of late poet Ahmed Fouad Negm in Cairo's Mokattam district and will turn it into a museum.
He called on anyone who has pictures or handwritten poems by Negm to place it in the museum.
Sawiris said at the ceremony, held at the American University in Cairo on Tuesday evening, that despite the many things he did in his life, he considered that the best thing he has done was founding the Negm poetry award.
He described the late poet as a spontaneous and national figure, adding that the award returns the living spirit to youth who learned at his hands.
Nawara Negm, the daughter of the late poet, said that Umm Zaynab, the last of her father's wives, had offered the house for sale on an electronic platform.
Sawiris decided to buy it and turn it into a museum containing the poet's belongings. She said she will place her father's belongings at the museum, and she called on her relatives and friends to collect what they have of her father's belongings and send it to the museum.
Mona Fayek, who is in charge of the Sawiris museum project, told Al-Masry Al-Youm that Sawiris Foundation for Social Development will hold a meeting to discuss executive steps to officially turn it into a museum.
Poets who have won the award include Ahmed Othman for his his collection of poems "Means of Safe Suicide", Ahmed al-Saeed for his collection of poems "Sida", Ahmed Abdel Hay for "The Total Defeat", Hassan Farid Tarabiya for "The Last of the Mohicans Knights", Sherif Tayel for "Movies to be Seen in Reverse", Aziz Mohamed for "The Tenth Planet", Ali Aboul Magd for "Solomon's Temple" and others.
Negm was imprisoned for varying periods because of his biting and critical poetry of Egypt's rulers. He was imprisoned under the late presidents Gamal Abdel Nasser and Anwar Sadat. Negm was one of the supporters of the 25 January Revolution. He died in December 2013 at the age of 84.
Edited translation from Al-Masry Al-Youm