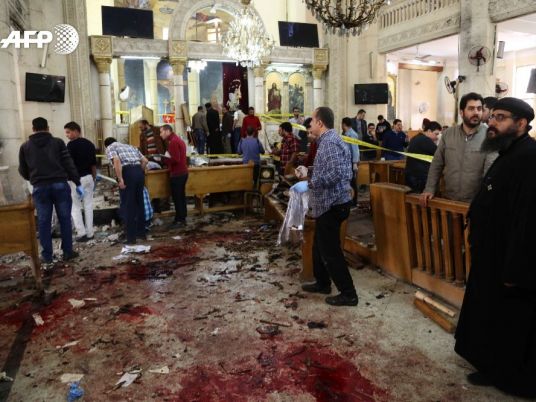 Following the broadcasting of his photo and name in a state-news TV brief as a suspect, wanted in the recent church attacks, Amr Moustafa Youssef surrendered himself on Wednesday to the National Security apparatus in Qena.
Photo of church attack suspect Amr Moustafa Youssef that was released by Interior Ministry
According to a report televised on the privately-run TV channel DMC, Amr surrendered himself to the police-affiliated apparatus of the National Security directly after he and his family watched his profile being broadcast as a wanted suspect.
Mohamed Mostafa Youssef, brother of the defendant Amr, asserted in the DMC report that he and his mother were shocked when they watched the Interior Ministry's statement that included their family member's name as a wanted person, accused of being involved in the recent church attacks.
Moreover, he noted that Amr is working in a petroleum company, stressing that he has no relations with extremists nor terrorist activity.
"Our son surrendered himself to police forces for the sake of proving his innocence. He is married and has two children and if investigations proved he is a participant in the attacks, we will insist on applying strict punishment," the brother of the surrendered defendant said in the DMC report.
Amr was mentioned in the Interior Ministry's statement as a resident of Qena who has links with the execution of the recent Palm Sunday attacks that targeted two churches in Alexandria and Tanta, leaving 46 people dead.
Among the list of wanted suspects mentioned in the Interior Ministry's statement on church attacks, Amr is considered the second suspect who willingly decides to surrender himself to authorities; after suspect Mahmoud Mohamed Hussein who also turned himself into Qena prosecution.