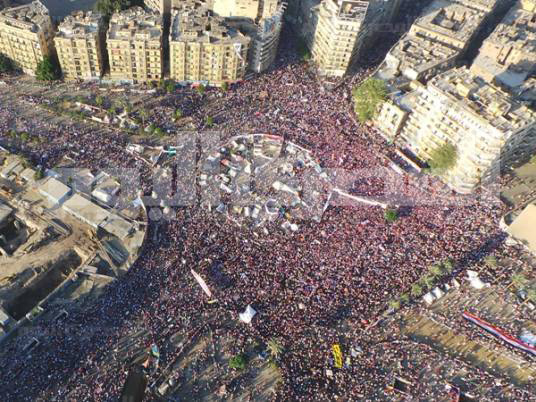 Security authorities in Cairo and Giza have geared up for protests scheduled for Friday by supporters of the Muslim Brotherhood, by closing all entries to Tahrir and Abdel Moneim Riad squares ahead of planned protests for the supporters of ousted President Mohamed Morsy.
Police and army forces and vehicles are stationed at vital spots close to Tahrir, Nahda and Rabaa al-Adaweya squares as well as in front of embassies, the Egyptian Museum, the Egyptian TV building and the Cairo and Giza governorates, laying barbed wires on entries to the squares.
Security was also tightened in areas where there is a higher possibility of the breakout of violence such as Ayyat, Kerdasa and Saff, as well as at police stations in Cairo and Giza and their security departments and at the Interior Ministry headquarters.
Security forces were given orders to use their weapons in addressing riots and violence.
Major General Gamal Abdel Aal, head of the general department for Cairo Investigations, said strict orders were given to protect buildings against assaults and to fend off any attacks on the police and to face violence that threatens to undermine security or intimidates citizens.
Abdel Aal added that security will be especially present in main roads on Friday and on 6 October. Nahda and Rabaa squares will be heavily secured to prevent the Brotherhood from using them again to hold massive rallies.
Major General Mohamed al-Sharqawy, head of Criminal Investigations, said security will be present in greater numbers in Nahda square and in front of the security department and Giza governorate headquarters.
A source from the Cairo Traffic Department said traffic will be allowed to flow normally through Tahrir after the rallies scheduled for Friday end, adding that the traffic detours are expected to cause overcrowding on Qasr al-Nil Bridge, at the Nile Corniche and in nearby areas.
The same source added that security authorities will also remove the cement blocks on Qasr al-Aini to allow traffic into Tahrir.
The National Alliance to Support Legitimacy called on Egyptians to start protesting from 4 October and to gather in Tahrir Square on 6 October for a million man protest titled "Cairo, the capital of the revolution" to salute the heroes of the Egyptian army who took part in the 6 October war.
Edited translation from Al-Masry Al-Youm