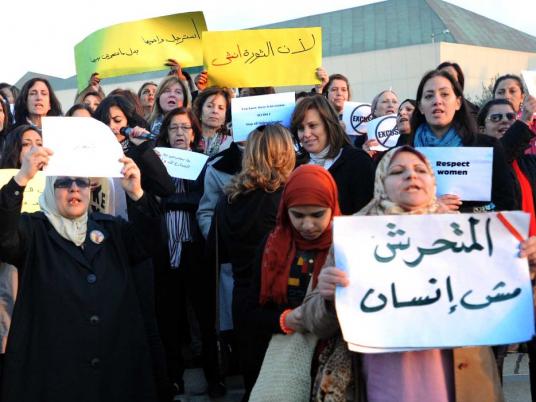 The final report of the Force Against Harassment group, issued Monday, said collective sexual harassment incidents during protests took place from 6 pm in Tahrir Square.
The report also said several incidents required medical intervention, with one case requiring surgery.
The group had received 50 complaints about collective sexual harassment in Tahrir Square on 30 June alone.
Force Against Harassment also recorded cases of physical assault against women at the exit of the Sadat Metro station, located in Tahrir Square, where attackers used sticks and attempted to kidnap female demonstrators.
The group said the escalation in sexual abuse of protesters reflects a wider problem of sexual violence against women, which adversely affects women's position in public life.
It said the regime is exploits sexual harassment for political gain, while the government does not take serious action when it receives complaints.
It also said a source at the Health Ministry has disclosed the name of a woman who was subjected to sexual harassment, the details of the incident, and the hospital she was treated at, which was a clear violation of the most basic rules and ethics of the medical profession.
Force Against Harassment called on political parties to protect women demonstrating in and around Tahrir Square, and appealed to the media to halt naming victims in incidents.