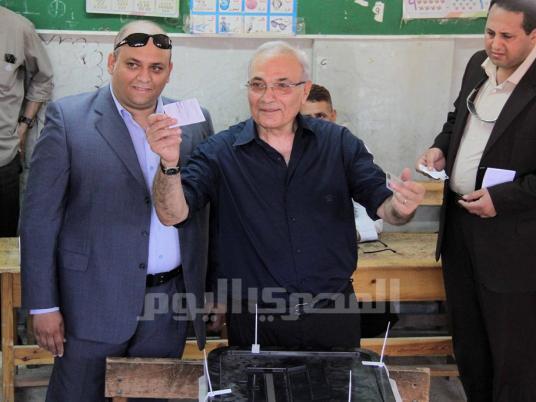 The Presidential Elections Commission is set Tuesday to consider former presidential candidate Ahmed Shafiq's challenge to the results of the election won by Mohamed Morsy one year ago, said commission head Abdel Aziz Salman.
Shafiq filed a complaint in October, claiming that the election was rigged. Morsy garnered 51.7 percent of votes to Shafiq's 48.3 percent in last June's runoff. Shafiq's complaint lists specific incidents of ballot rigging and invalidation.
All the members of the Commission were invited to meet with the appellant and listen to him, Salman told Al-Masry Al-Youm
It is not yet known when a final verdict will be issued by the Commission, as Shafiq's testimony must first be heard.
Judicial sources explained that setting a date for considering his challenge does not necessarily mean that new evidence has been found that may lead to invalidating Morsy's victory.
The Commission, sources said, has to set a date for the consideration of any challenge it receives to the result of the presidential election. It is unlikely, however, that a decision invalidating Morsy's victory will be announced, since the Commission's decisions cannot be enforced as per Article 28 of the Constitutional Declaration. Shafiq's challenge is thus likely to be rejected.
Shafiq's lawyer, however, described the content of this constitutional provision as "vague" because the Commission had previously cancelled its decision to exclude Shafiq under the law of political isolation.
He explained that the lack of power to enforce verdicts is limited to other judicial bodies and does not apply to the Commission.
He noted that the Commission should have proceeded more quickly in its investigation and reporting of election rigging, bribery, voter intimidation, the use of phospholipids markers, and the preventing of Copts and women from voting.
The National Security and Administrative Control Authority was late in sending in its report on the elections, and the Commission had to wait for them. In the meantime, the results of the election were announced to soothe the tension and chaos in Cairo as people awaited to hear who their new president would be.
Edited translation from Al-Masry Al-Youm