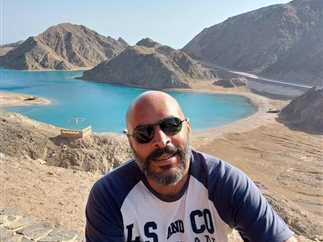 A relative of Mohamed Moheb al-Mawy, the bank manager who was bitten by a pitbull dog in Sheikh Zayed City announced his death, on Sunday.
Investigations have been ongoing over the incident where a bank official was bitten inside a famous compound in Sheikh Zayed by a dog.
The victim was then rushed to a private hospital by family members as he had sustained severe injuries which later put him into a coma.
Top prosecutor Hamada al-Sawy ordered the detention of the dog owner who is the husband of a famous media presenter over the case, pending investigation.
Apparently he left the dog uncuffed or muzzled, which resulted in the dog biting the victim and causing him severe injuries.
On February 17, authorities received a complaint from the victim's wife, reporting on his transfer to the hospital. 
Prosecutors initiated an investigation into the incident, and listened to the statements of the victim's family, as well as the testimonies of victim's neighbors, and three employees of the residential complex in which the incident occurred.
According to investigations, the victim was returning home with his son, when he saw the accused's dog in the balcony, neither gagged nor tied, so he immediately went to the accused's place of residence to ask him to muzzle the dog and restrain it so that no one would panic.
When the housemaid opened the door for them, the dog brutally attacked the victim.