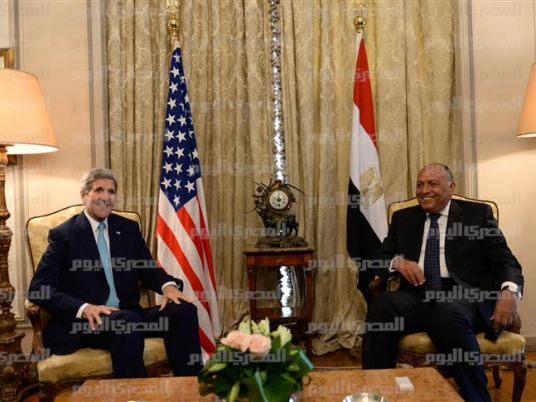 Foreign Minister Sameh Shoukry met with Israeli Energy Minister Yuval Steinitz, in Washington, DC, on Thursday, the first meeting of its kind between the Egyptian and Israeli ministers in several years.
Yediot Ahronot newspaper said the meeting, which was initiated by the US administration, pointed to a thawing of relations between Cairo and Tel Aviv.
The meeting lasted for about an hour, with the two ministers covering a number of regional issues, such as the Israeli gas exports to Egypt and international cooperation to combat terrorism, according to Yediot Ahronot.
The newspaper said the talks were conducted in a constructive atmosphere.
Also on the agenda were efforts to prevent radioactive terrorism, according to the ynetnews.com news website.
Yediot Ahronot said that the US is hoping to engage Egypt, as well as Turkey, in a regional energy alliance that currently includes Israel, Cyprus, and Greece. The stated aim of this alliance is securing the energy needs of "moderate" countries that fight the "Islamic State" organization, the newspaper said.
Nuclear Security Summit
Shoukry and Steinitz are in Washington to attend a Nuclear Security Summit, scheduled for Thursday and Friday. Over 50 presidents are participating in the summit, although Russia is not taking part.
The event is the fourth and final summit in a series, starting in 2010, aimed at agreeing measures to secure nuclear materials and prevent nuclear terrorism. The summits were initiated by President Barack Obama at a speech in Prague in 2009.
Ahead of this years' summit, Egyptian Foreign Ministry Spokesperson Ahmed Abu Zeid, issued a statement saying, "The Washington summit is the fourth and final summit to be held in the framework of an initiative launched by US President Barack Obama in 2010 to support international efforts to reduce the risks and threats of nuclear terrorism."
Egypt's delegation will provide a national report on the actions taken by Egypt in the field of nuclear security, especially with regard to the protection of nuclear materials and creating a database of nuclear materials and radioactive sources, as well as confronting the illicit trafficking in nuclear materials, according to Abu Zeid.
The summit will include discussion of common efforts to combat nuclear terrorism, following up on the work of previous summits.
According to Abu Zeid, topics for discussion over the two-day event include: the inherent right of states to benefit from the peaceful uses of atomic energy; the measures taken by different states in combating nuclear terrorism; the threat that nuclear weapons pose to international peace; and the role of the International Atomic Energy Agency.
Edited translation from Al-Masry Al-Youm