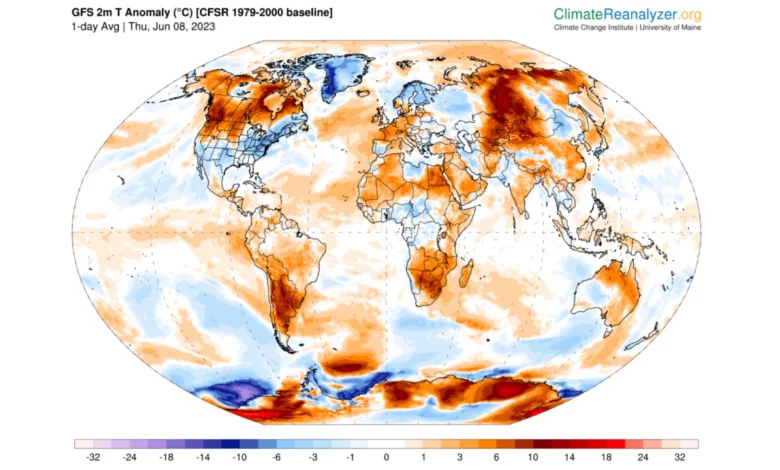 Dozens of heat records have fallen in Siberia, as temperatures climbed above 100 degrees Fahrenheit (37.7 Celsius).
Despite only being early June, records are tumbling across parts of Siberia as extreme heat pushes into unusually high latitudes.
Last Saturday, temperatures reached 37.9 degrees Celsius (100.2 Fahrenheit) in Jalturovosk, its hottest day in history, according to the climatologist Maximiliano Herrera, who tracks extreme temperatures across the globe.
A slew of temperature records have fallen in Siberia since then.
Several all-time heat records were broken on Wednesday, including in Baevo, which reached 39.6 degrees Celsius (103.3 Fahrenheit), and Barnaul, which hit 38.5 degrees Celsius (101.3 Fahrenheit).
Some of these stations have between five and seven decades of temperature recordings, Herrera told CNN. "So we can say it's really exceptional." It's the region's "worst heat wave in history," he posted on Twitter on Wednesday.
And it looks set to get even worse. "Records keep falling today with again temperatures around 40 degrees Celsius," Herrera told CNN on Thursday
A scientific analysis may be done to asses how much influence climate change is having on this event, but we know that global warming is causing more extreme temperatures, especially in the higher latitudes.
A particularly intense and prolonged heat wave in 2020, which saw the Arctic Siberian town of Verkhoyansk hit 100.4 degrees Fahrenheit (38 Celsius), would have been "almost impossible" without human-caused climate change, an analysis by a team of international scientists found.
Siberia tends to see large monthly and yearly temperature fluctuations, but the last few decades have seen a strong warming trend.
"Siberia is one of the fastest warming regions on the planet with hot extremes increasing in intensity," Omar Baddour, chief of climate monitoring and policy services at the World Meteorological Organization, told CNN.
The region "has seen some very intense heat waves," said Samantha Burgess, deputy director of the the European Union's Copernicus Climate Change Service. "These heat waves have major implications for people and nature and will continue to happen more frequently unless we rapidly cut emissions of greenhouse gases," she told CNN.
As wildfire season takes hold in the Northern Hemisphere, Siberia – along with Canada – has also been grappling with significant and intense wildfires. Fired that raged across Russia's Ural Mountains in May, killed at least 21 people.
Extreme heat is likely to worsen wildfires.
It's not just Siberia that has seen record heat this week. It has spread across Central Asia. In early April, Turkmenistan saw temperatures of 42 degrees Celsius (107.6 Fahrenheit), which was "a world record for that latitude," Herrera said.
Since then the heat hasn't stopped, with rolling heat waves gripping the region.
On Wednesday, temperatures of more than 45 degrees Celsius (111.2 Fahrenheit) were recorded in China, 43 degrees Celsius (109.4 Fahrenheit) in Uzbekistan and 41 degrees Celsius (105.8) in Kazakhstan.
It's "a historic heat wave, which is rewriting world climatic history," Herrera said on Twitter.