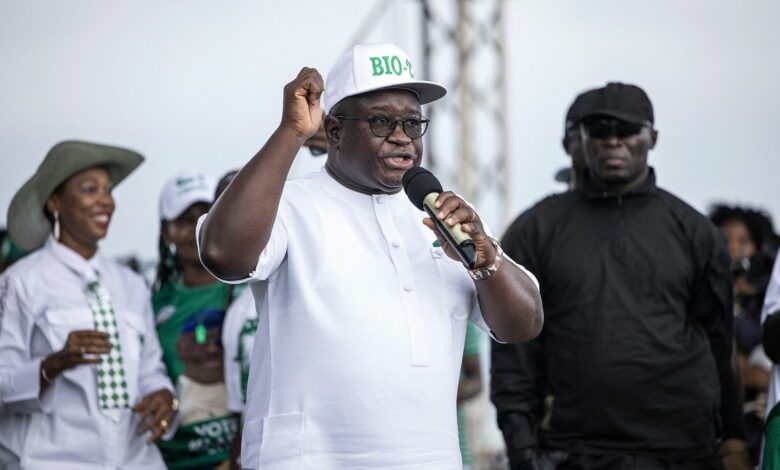 Sierra Leone's President Maada Bio was sworn into a second term on Tuesday, just hours after the country's electoral authority certified his victory at the polls over the protests of rivals.
Bio's Sierra Leone People's Party (SLPP) won nearly 1.6 million votes – 56.1% of the total ballots – to defeat his closest opponent, Samura Kamara of the opposition All People's Congress (APC) party, who won a 41% share of the vote.
"By the powers vested in me… I hereby certify that Bio Julius Maada… [is] duly elected president," declared Chief Electoral Commissioner Mohamed Konneh.
Just hours after the results was announced, Bio was sworn in at the State House where he gave a speech thanking citizens for their "trust and dedication."
"Our triumph belongs to every Sierra Leonean," he added.
Kamara however rejected the results and described it as a "frontal attack on our fledgling democracy."
His APC party had on Monday rejected provisional results that showed an early lead for Bio, describing then as "cooked-up figures."
APC alleged a lack of transparency by the electoral body in tallying the ballots, adding that its agents "were neither allowed access to participate (at tally centers) nor were they allowed to verify results prior to the announcement."
The vote count was fraught with controversies and some international observers expressed concerns about the integrity of the process.
"Carter Center observers reported that the tabulation process lacked adequate levels of transparency," the observer group said in a statement ahead of the declaration of the final results.
"Carter Center observers directly observed instances of broken seals and inappropriately open ballot boxes in three of the five tally centers," it added in its preliminary report issued Tuesday.
The electoral commission described the weekend poll as relatively peaceful but acknowledged pockets of violence and delays in polling in some areas.
On Sunday, Kamara's APC party accused the country's security forces of laying siege to its head office in the capital Freetown, and firing live rounds into the property while it held a press conference after the polls.
He described it as an "assassination attempt," however police denied firing live rounds.
The June 24 vote was the fifth election since the end of the country's brutal civil war in 2002. Key among voter concerns were high inflation rates and unemployment levels, as well as political violence and corruption.